Events
11 Aug 2021
v207 Patch Completion Event: Superstar's Arrival!
Dear Maplers,
Here comes your golden ticket to patch v207! In celebratory orders, a special
Thank You Box
supply AND a
Typhoon Growth Potion
will be available for all Maplers to claim! Rise up now and shine like the Superstar within you!
Event Date: 11th August 2021 ~ 15th August 2021

Note: Thank You Box contains :   ➢ 2x EXP Coupon x4   ➢ 2x Drop Coupon x2   ➢ Special Medal of Honor x7   ➢ Safety Charm x7   ➢ Selectable Arcane Symbol Exchange Coupon x3   ➢ Ring of Clan (1 Day) x1
All items above has a 7 days duration, with the exception of Ring of Clan.
Simply download or patch up your client to v207, login, and play to enjoy these rewards!
---
Compensation for Long Extended Patch
Additionally, we wish to convey our utmost regrets and apologies for the long extended patch hours that took place today. You will be able to redeem x3 2X EXP Coupons from the Reward Box, and enjoy an extended duration of up to 24hrs for all Cash Items currently in your possession.
---
Mechanics:
1. Everyone above Lv. 33 who logs into the game between 11th August 2021 (after servers are patched) to 15th August 2021, 2359hrs (GMT+8) will be able to receive one Thank You Box and one Typhoon Growth Potion, as well as 2X EXP Coupons x3!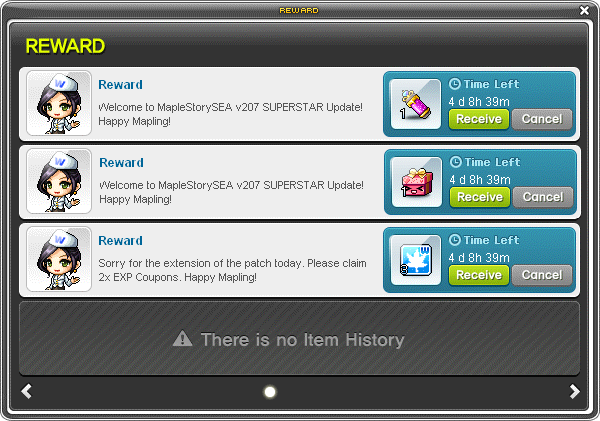 2. Rewards can be claimed via the Reward Box icon on the left side of your screen. 3. Rewards can only obtained once per Maple ID.
- MapleSEA Administrator