Events
07 Feb 2020
Emergence Miracle Time for Hats
Dear Maplers,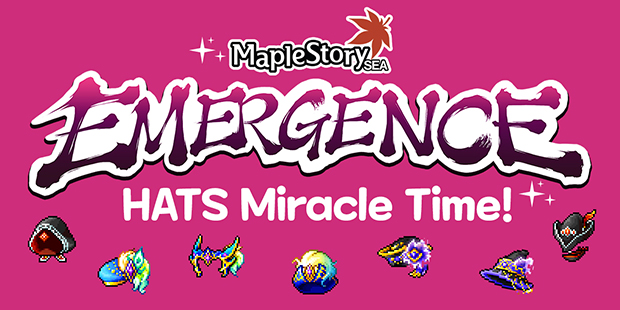 Miracles come in both small and big packages! Enjoy enhanced Potential Tier Up chance for your Hats with
Emergence Miracle Time for Hats!

Date
: Saturday, 8th February 2020
Time
: 1800hrs ~ 2359hrs (GMT +8)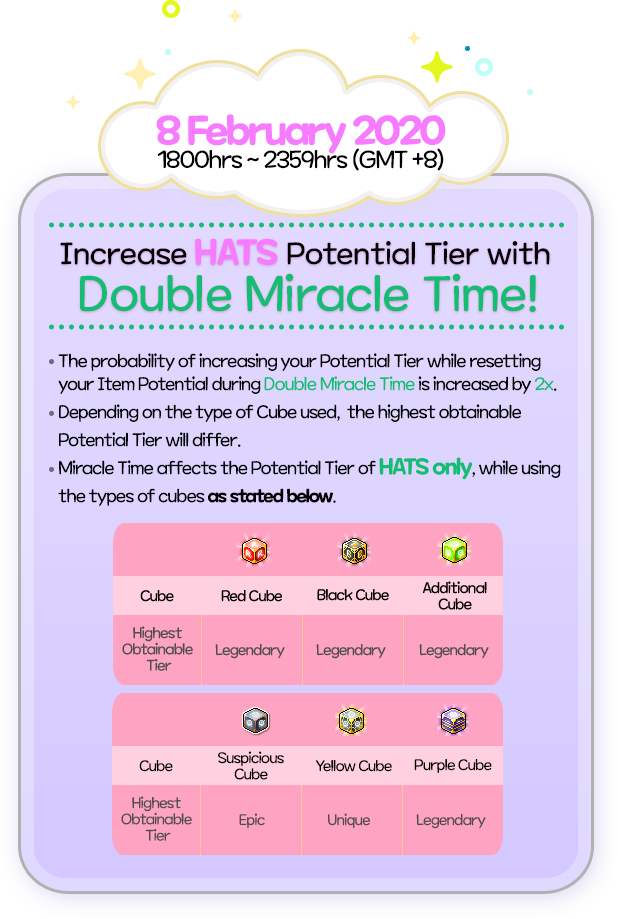 All cubes listed in the above image are affected by Miracle Time rates up till the listed Highest Obtainable Tier
---
Grand Cube Packages Sales
3 Special Grand Cube Packages will be on sale during
Emergence Miracle Time!
Each Grand Cube Package consists of 30 cubes, a number of
Grand Enhancement Boxes
, as well as a coupon for a
Potential Scroll
with a special function!
All packages will only be on sale from
0000hrs to 2359hrs of 8th February 2020
. All package contents have a duration of
7 days
.



Items Obtainable from Grand Enhancement Box
• Spell Trace
• Suspicious Cube
• Chaos Scroll of Goodness 50%
• Incredible Chaos Scroll of Goodness 60%
• Golden Hammer 100%
• Carved Silver/Golden Seal
• Yellow/Purple Cube
• Crimson/Rainbow Resurrection Flame
• Epic/Unique Potential Scroll 100%

It's the Emergence of a Miracle!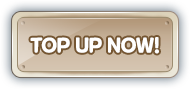 - MapleSEA Administrator