Events
26 Nov 2016
Surprise Sunday Sale
What is the Sunday after Black Friday called? Well, we don't know either!
Nevertheless, we do have a surprise in store for you, so we'll just go along with "Surprise Sunday"!
For
ONE DAY ONLY
on
Sunday, 27th November 2016
, these
NEW PACKAGES
will be purchasable from the Cash Shop!
Bloodbath Darkness Package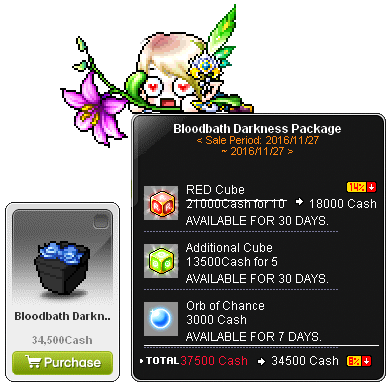 Necrotic Darkness Package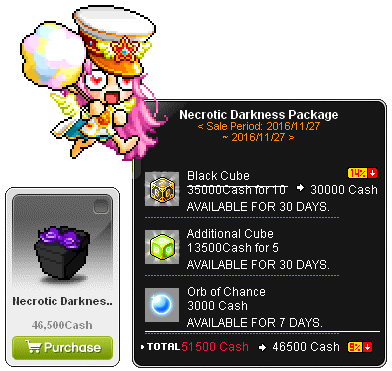 These are packages that respectively gives you
Red Cubes
or
Black Cubes
plus
Master Additional Miracle Cubes
in a bundle
! What's more is that each package comes with an
Orb of Chance
!

What is an
Orb of Chance
?

It is an item that works like a Ga-Cha-Pon Ticket.

What can I get from the Orb of Chance?

There is a chance to get one of the following items : • 1x Damage Skin Save Scroll • 1x Epic Potential Scroll 80% • 1x Unique Potential Scroll 80% • 1x Clean Slate Scroll 20% • 1x Innocent Scroll 50% • 1x Carved Golden Seal • 1x Spell Traces Exchange Coupon • 1x Confusion Fragment

- MapleSEA Administrator