Events
30 Sep 2017
New Item: Golden Apple
• New Item: Golden Apple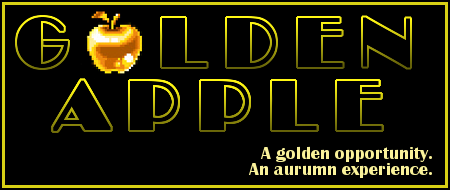 Why not begin the month of October by turning your fortunes with some golden luck?
Category:
• Game→Convenience

Duration:
• 30 Days
As the saying goes, an apple a day keeps the doctor away, so why not take a step further and get those golden apples to cast your bad fortunes away!
Only available in the Cash Shop
at a special discounted price
, between
1st October 2017, 0000hrs ~ 4th October 2017, 2300hrs (GMT +8)
---
• Using the Golden Apple
1) Purchase the Golden Apple from the Cash Shop. 2) Ensure that the Golden Apple has been moved into your Character Inventory after purchase. 3) Exit the Cash Shop, and open your Inventory > "Cash" tab. 4) Double-click on the Golden Apple. Ensure that you have sufficient empty slots in your inventory, a window will prompt you before you make your confirmation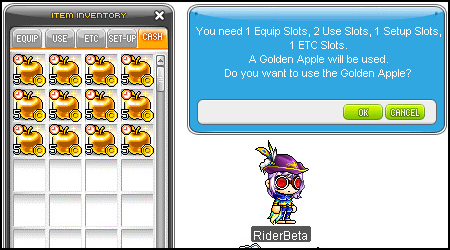 5) Upon clicking on "OK", you will receive the following: » 1x
Random Item Reward
» 1x Golden Apple Piece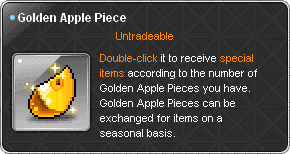 ---
• Golden Apple Slice Exchange
Collect Golden Apple Pieces and exchange them for other consumables! (double-click on the Golden Apple Pieces to begin exchanging):
»
10x Golden Apple Pieces :
2000x Spell Trace »
30x Golden Apple Pieces :
1x Golden Hammer 70% »
50x Golden Apple Pieces :
1x Innocence Scroll 50% »
100x Golden Apple Pieces :
1x Special Additional Potential Scroll
---
• Golden Apple Item Reward List
• Monster Souls (Arkarium, Bad Brawler, Damien, Murr Murr; Normal/Augmented)

» Mighty Monster Soul [+Str] » Deft Monster Soul [+Dex] » Enlightened Monster Soul [+Int] » Lucky Monster Soul [+Luk] » Glamourous Monster Soul [+All Stat] » Sharp Monster Soul [+Weapon Atk] » Runic Monster Soul [+Magic Atk] » Robust Monster Soul [+HP] » Augmented Monster Soul [+Random Stat; Upgraded Soul Skill] » Soul Enchanters
• Chairs & Mounts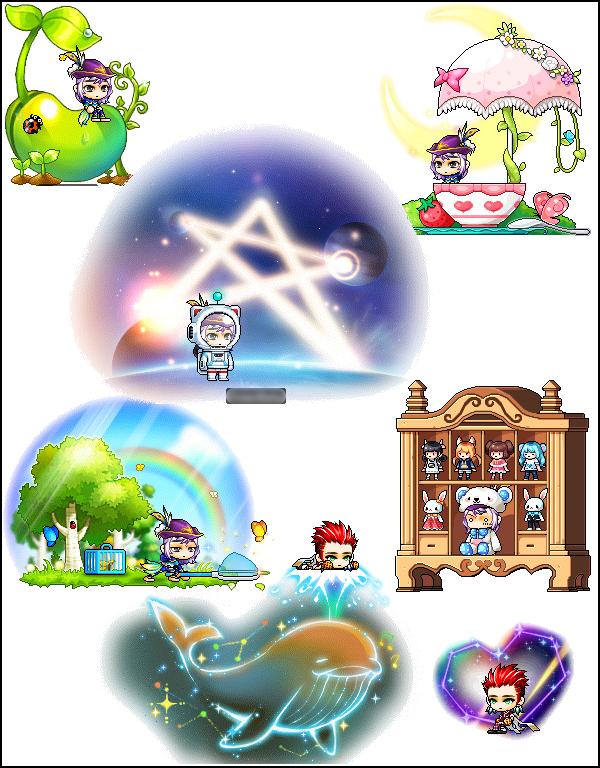 » Romantic Teacup Chair » Toyland Main Character » Rocking Seed Chair » Oh Butterfly! Chair » Shooting Star Chair » Heart Zodiac Mount » Space Whale Mount
• Bountiful Enhancement Scrolls & Consumables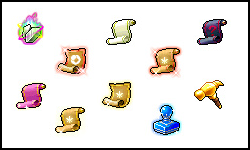 » Assorted Premium Scrolls (Pet, Weapon, Accessory, etc.) » Assorted Chaos Scrolls (Miraculous, of Goodness, etc.) » Assorted Clean Slate Scrolls (5%, 10%, etc.) » Assorted Miracle Scrolls (Pet, Weapon, Accessory, etc.) » Pink Accessory Scrolls » Carved Seals (Silver, Gold) » Golden Hammer » Rainbow Resurrection Flame
• Miscellaneous Bags for more Inventory Space

» 20 Slot Bags (Scrolls, Titles, Recipes, Chairs, Minerals, Plants, Crafting, etc.)
• Equipment
» Android Hearts (Titanium, Lithium, Crystal, Gold) » Shining Feather Set Equipment (Wings of Victory Weapon + Wings of Harmony) » Assorted Face Accessories
May the fortunes ever be in your favour!