Events
07 Dec 2018
Popeyes Hen up for Adoption!
Hey Maplers,
Are you enjoying the Popeyes X MapleStorySEA crossover? I've had so much chicken the past few days I think I'm starting to see my in-game pets as chickens!
With that in mind, we are currently running a limited time event where you can get your very own Popeyes Hen, an in-game pet that looks so adorably delicious!
(Please do not eat the Popeyes Hen. Please.)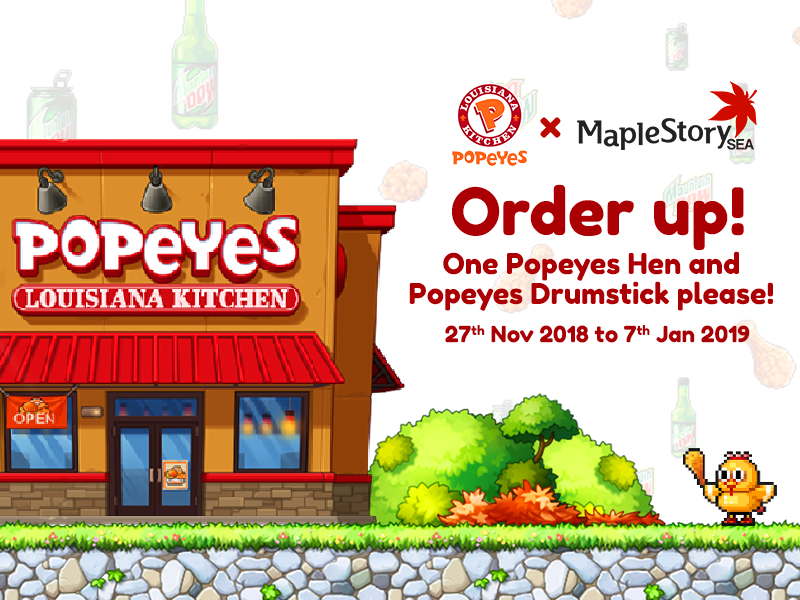 Event Promotion Period
: 27 November 2018 ~ 7 January 2019.
Lucky Draw Period
: Every week on Venshi Is Playing Facebook stream.
To receive a
Popeyes Hen (Days of Magic: 90)
, simply
spend 1k @cash
in the Cash Shop for
7 consecutive days
, no questions asked!
But that's not all! Stand a
chance to win
a
Permanent Popeyes Hen
with at least 1k @cash spent in the Cash Shop every week!
Lucky Draws will be held on Venshi Is Playing streams every Tuesday. Eligible spending will be from Tuesday to Monday of the previous week. Please note that stream schedule may vary and is subject to changes. The first Lucky Draw stream will be held on 18 December.
Promotion is available until
7 January 2019, 2359hrs
. Eligible winners will receive instructions on redemption after the promotion ends.
Find out more on our
MapleStorySEA x Popeyes Eat to Win campaign here!
Happy eating while Mapling!
-MapleSEA Administrator