Events
31 Dec 2021
Going Live with MapleStorySEA ON AIR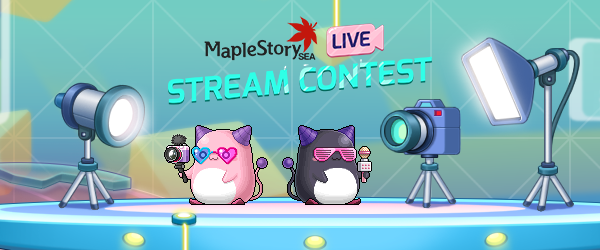 Hey Maplers!
As 2021 draws to a close, MapleStorySEA has prepared one last event for the year for our dear Maplers to stand a chance and get some stellar physical loot to boost up their gaming setups!
Calling out to all distinguished, budding and potential streamers! MapleStorySEA is hosting our very first "for the streamers" event! We are holding a contest for players to stream MapleStorySEA for at least 30 minutes during this event period and win big!
Get ready to share all the enjoyable and fun times with our ongoing events and updates as we bring to you: MapleStorySEA Streamer's rally!
Don't miss out on the updates that have dropped in on us from On Air featuring contents such as the Live Studio, the new character, Charmer of Elements, Lara, many mini-games to play and even the KING OF CUTE, DIVING KING SLIME for you to challenge!
MapleStorySEA will be supporting your endeavors as you boost up your subscribers both in-game and on your Twitch channel this period!
Prizes
Get ready to win BIG this festive season as MapleStorySEA is preparing BIG prizes in our final round of events to close off the year!
Here's a preview of items to be won: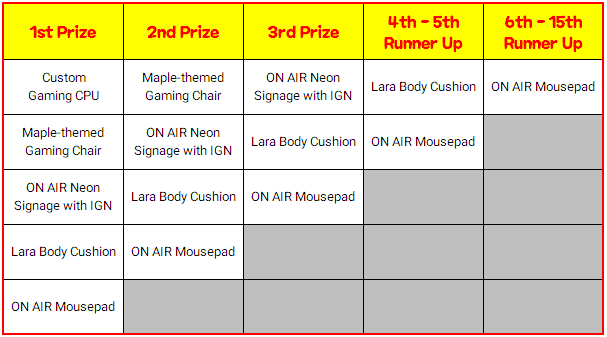 Start your 2022 MapleStory journey with us and you could walk away with these special MapleStorySEA themed rig for you to build upon your gaming fortress!
---
Event Period 31st December 2021 ~ 31st January 2022
Mechanics

Use your existing Twitch channel or sign up for a new one to stream MapleStorySEA for at least 30 minutes during this event period.
Register your Twitch channel with us using the sign-up form provided.
Feature contents from the ON AIR update, including yourself playing the new character class, doing the daily/ weekly missions for subscriber counts or even participating in boss runs!
Make sure you record and download a VOD of your stream and upload to it your channel for us to verify!

Terms & Conditions

This event is open to ALL aspiring streamers residing in Singapore and Malaysia with a valid MapleStorySEA Passport account and MapleID created on or before 30th December 2021.
Contestants must have at least one Video on Demand (VOD) with a minimum of 500 total view counts on their Twitch channel streamed within the event period in order to qualify for prizes. (Read this on how to setup a Twitch VOD)
Using the Google Form provided, players must associate their character IGNs to their Twitch channel. The MapleStorySEA character used to stream must be the one which IGN has been submitted in the entry form.
[Edited as of 31st December 2021, 1600hrs] Winners will be selected based on the highest prerequisite count of views on their submitted stream video, as well as quality of content streamed and how well the streamer interacts or engage with viewers throughout the stream. This will be internally evaluated by a panel of reviewers from the events committee.
Winning participants will be contacted via the email address that was used to register in the entry form. We will not be responsible for any omission of email/prizes due to inaccurate entries/typos made in the entry form.
Contestants must promote their respective livestreams to the best of their abilities in order to achieve the minimum viewer count as stipulated above.
Only ONE Twitch account submission is allowed per MapleStorySEA Passport account.
Players found to have submitted multiple channel entries will be disqualified.
PlayPark Pte Ltd and Nexon Corporation may disqualify any entry if deemed inappropriate and/or not suitable without notice.
Any content streamed by the contest participants are of their opinion and does not necessarily reflect the official policy or position of PlayPark Pte Ltd and Nexon Corporation.
All contestants shall be responsible for the content streamed on their respective Twitch accounts.
Entries not pertaining to the scope of event may be omitted at the discretion of PlayPark Pte Ltd and Nexon Corporation.
PlayPark Pte Ltd and Nexon Korea Corporation reserve the right to disqualify and take action against any player that violates our abuse policy, or caught inflating Twitch views through unscrupulous means.
PlayPark Pte Ltd and Nexon Corporation reserve the right to edit or change any of the above without prior notice.