Events
17 Nov 2021
6000th Day Celebration Special
Hey Maplers!
Here's your chance to earn your very own personalized MapleStorySEA merchandise!
All you got to do is participate actively in our 6000th Day event, from
17th November 2021 (After Patch) ~ 30th November 2021, 2359hrs
, by completing one quest per day for a total of 10 days!
In addition to getting Wonky's the Fairy's Magic Lamp Rewards, Maplers who have braved through and completed each of the 10 quests during the entire duration will automatically be included in our very special 6000th Day lucky draw!
What's at stake? Your very own PERSONALIZED MapleStorySEA 6000th Day mug, fully equipped with the MapleStorySEA 6000th Day logo and your character on it!!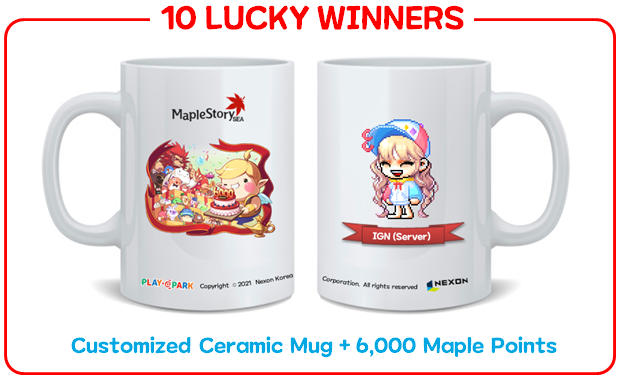 10 lucky winners will win this exclusive commemorative gift! Alongside this, we are doubling up the rewards, with these 10 lucky winners also winning 6,000 Maple Points each!
Why stop there? Since it is our special 6000th day, we are giving away 60 additional prizes to players who have completed the above criteria on clearing every single quest daily as well! These 60 lucky users will win themselves a 6000th Day cushion, specially designed to provide you with both comfort and visual aesthetics!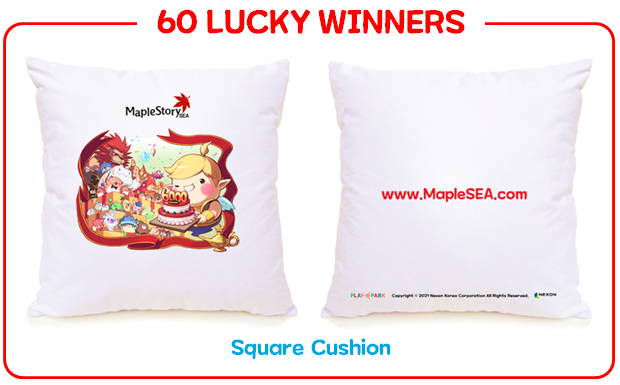 There will be a
total 70 winners
to be randomly chosen for our special prizes just by completing 1 quest every day for 10 days, it is that simple! Don't miss out on Wonky's the Fairy's Magic lamp!~
Come check out what other rewards Wonky has for you with his magical lamp! Click
here
to find out more.