Events
11 Apr 2018
Mid-Spring's Unconventional Dressers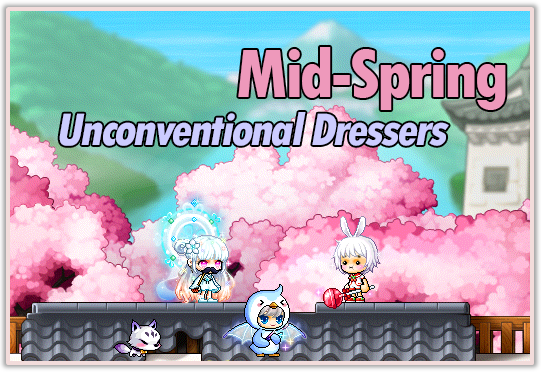 Hey Maplers!
We had Maplers dressed up and rocking the Red Carpet last season with our Maple Fashion Fantasia: Red Carpet contest! This time round, it's Spring and we're looking for something more
unconventional
, something that will make us question ourselves and then go WOW!
Simply post a picture of your character(s) best dressed this Mid-Spring Update in our
Facebook post here
, showing us the different cash equipment pieces used to achieve your Unconventionally Awesome look! Users are free to submit as many entries as they wish to. However, each user will only be able to win once. Unconventional can be from anything out of the ordinary, to a trap outfit, or anything imaginable! Both genders are welcome to participate in this contest and snag the prizes with their creativity! (psst: We found a lot of trap entries in the previous season to be very funny and amusing!)
Please also remember to post your
Character IGN
,
Gender
and
World
when submitting!
Mix and match your favourite pieces, or even sew your own new cash outfits with our
Masterpiece Machine
updated for Mid-Spring!
Don't pass up this opportunity to take the title of MapleSEA's Most.... Unconventional?~
Outfitted Maplers will be reviewed by the team and the one deemed most fashionable will walk away with a
30k Maple Cash
prepaid card!
If you fall short, not to worry, the 1st Runner Up and 2nd Runner Up will also receive a 20k and 10k Maple Cash prepaid card respectively.
This event will run from now until
16 April 2018, 1200hrs
. Submissions will then be closed and results will be tabulated within the week.
An example submission would be as follows: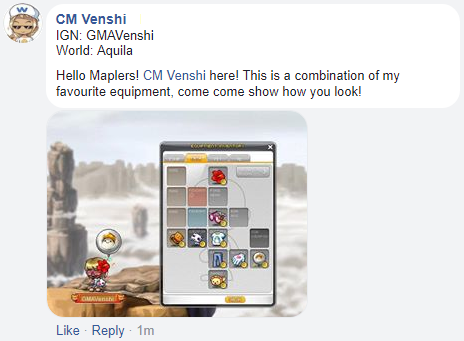 Dress your best, but remember to be wack!
---
Terms and Conditions
All entries previously submitted for Maple Fashion Fantasia: Red Carpet cannot be resubmitted for this contest.
If a winning entry is accused of plagiarism, the participant shall forfeit his or her entry and at the same time bear legal responsibility for the plagiarism. This rule shall also apply to all other submitted entries who are found guilty of plagiarism.
All submissions must be submitted in the fixed format in the appropriate Facebook post.
Comments or discussion not pertaining to the contest posted up may be deleted at the administrator's discretion without warning.
All decisions by Asiasoft Online and Nexon Corporation are final & binding.
Asiasoft Online and Nexon Corporation reserve the right to edit or change any of the above without prior notice.