Events
11 Jan 2017
MapleStorySEA Thanks All Maplers for a Triple-Win!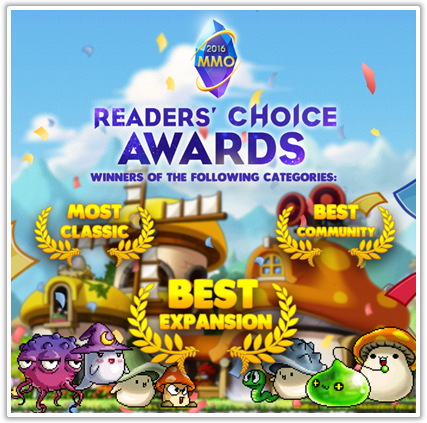 Dear Maplers,
Last month, we have submitted
MapleStorySEA
to MMOSite to contest against other games for the
"Readers' Choice Awards 2016"
in the following categories:
• Most Classic Game • Best Expansion • Best Community
We are excited and pleased to announce that MapleStorySEA has cinched the top vote for all 3 categories!!
As a gesture of appreciation, and to commemorate this special occasion, we have prepared some celebratory events during the month of January 2017! Read on to find out more.
Hot Day
On this special day, accept your Hot Day box via the Reward Box notifier icon on the left to receive your goodies!
Duration:
14th January 2017
Requirement:
Level 30 and above, Zero characters must have completed Chapter 2 of the Zero storyline.
Rewards
:
• Trait Boost Potion x1 • I Love MapleStory Chair x1 • MapleStory Triple Star Medal x1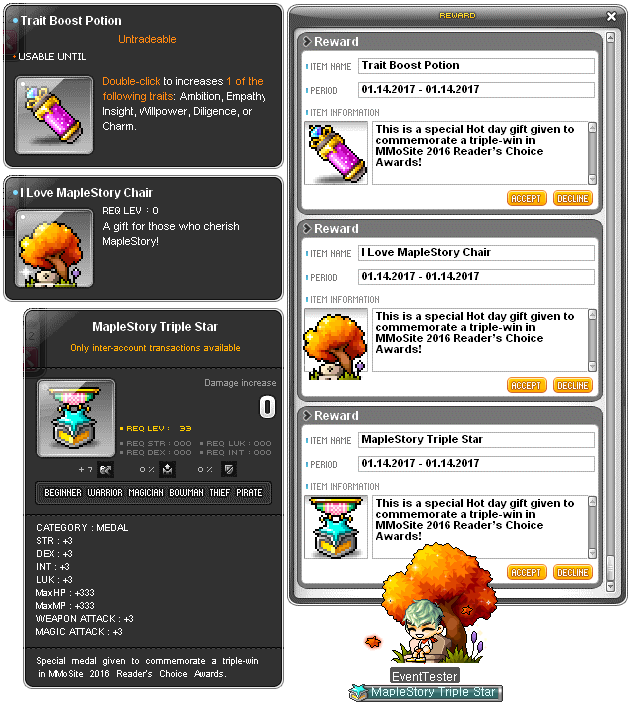 Note: • The items will be available from the Reward Box icon notifier on the left side of the screen. • The Reward Box icon will be available on 14th January 2017, from 0900hrs to 2359hrs (GMT +8). • If you were logged in prior to 0900hrs on the 14th January 2017, you are advised to relog in to be able to redeem the rewards. • If you wish to claim the rewards at a later time, click on the 'X' button at the top of the Reward window. • Clicking on the 'Decline' button will deem your reward as void. There will be no reimbursements for any voided rewards, whether intentional or not. • Do ensure that you have sufficient slots available to receive the rewards. There will be no reimbursements for any missing rewards due to insufficient slots.
---
January 2017 Server-Timed Events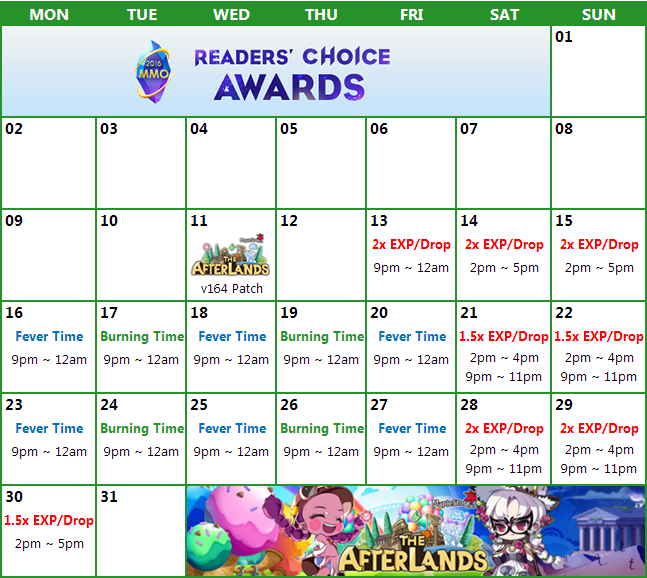 Key Notes
• Burning Time
Doubles the spawn rate of
Elite Monsters
• Fever Time
Increases the success rates of
Spell Traces
as follows: » 15% > 25% » 30% > 45% » 70% > 95%
- MapleSEA Administrator