Events
31 Oct 2018
MapleSto-rick or Treat
Happy Halloween Maplers!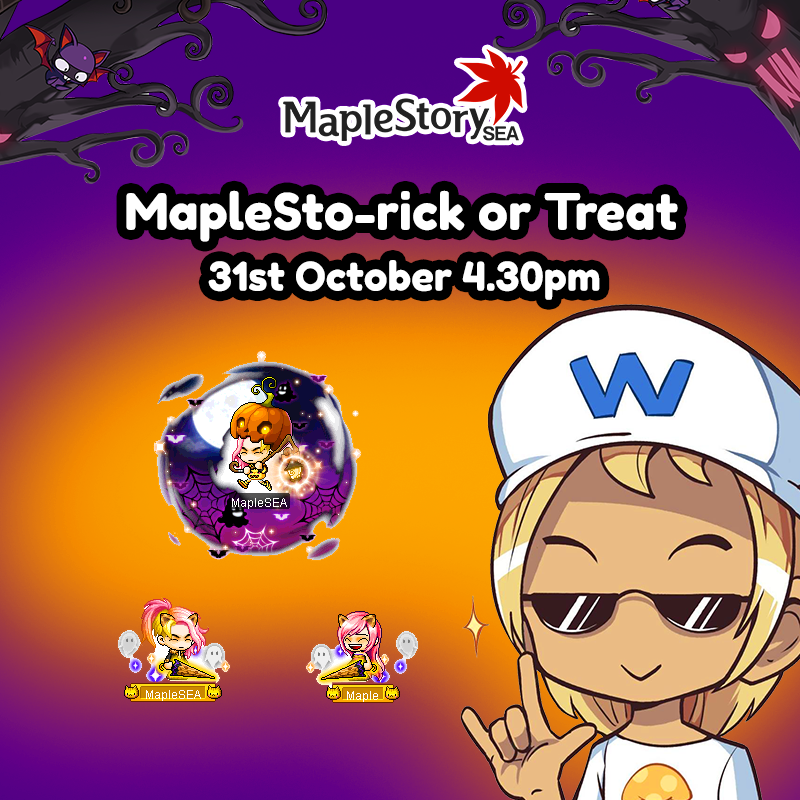 You are cordially invited to join
CM Venshi
in our Halloween Trick or Treat Event. Dress to impress!
Venshi will be bringing you around several towns for an in-game Trick-or-Treat event! Come down dressed in your best Halloween get-up or costume, and you might just walk away with some cool prizes such as MapleStory plushies & limited edition MapleSEA Hallowoots 2018 T-shirts!
What do you need to do for Venshi's Trick-or-Treat?
Simply login to the game at the listed timing below and look-out for Venshi's in-game announcement(s)!
Event Date : 31 October 2018 Event Time : 1630hrs - 1800hrs (GMT +8)
How to Participate in the Event
•
Dress Code
: Halloween themed get-ups/costumes! The more creative you are, the more halloween points you'll score!
•
Posting
: Take screenshots of the event and post it on either
a) Facebook
or
b) Instagram
with the hashtag #MapleSEAHallowoots.
(ps. Remember to set your post to public so that we can see it!)
•
Results
: We will be accepting posts of screenshots until Monday, 5th November 2018, 1000hrs (GMT +8). Winners will be contacted via the respective media outlets (Facebook/Instagram)
•
Rewards
: A set of premium MapleStory plushies & a limited edition MapleSEA Hallowoots 2018 T-Shirt.
Event Summary Notes
:
1. Log in to the game during the stipulated timing. 2. Dress your character up in your best Halloween themed outfit/costumes. 3. Follow Venshi around & remember to take good screenshots! 4. Post your screenshot(s) to either Facebook or Instagram, alongside your
character's IGN as well as the Hashtag #MapleSEAHallowoots.
5. If you happen to have missed Venshi's in-game event, you can still submit your Halloween themed screenshots! But bonus points will be given to screenshots captured during the Trick-or-Treat event! 6. Winning entries will be announced on
MapleStorySEA's Facebook
page, so stay tuned!
---
Rewards
A set of MapleStory premium plushies & a limited edition Hallowoots 2018 Tee-Shirt!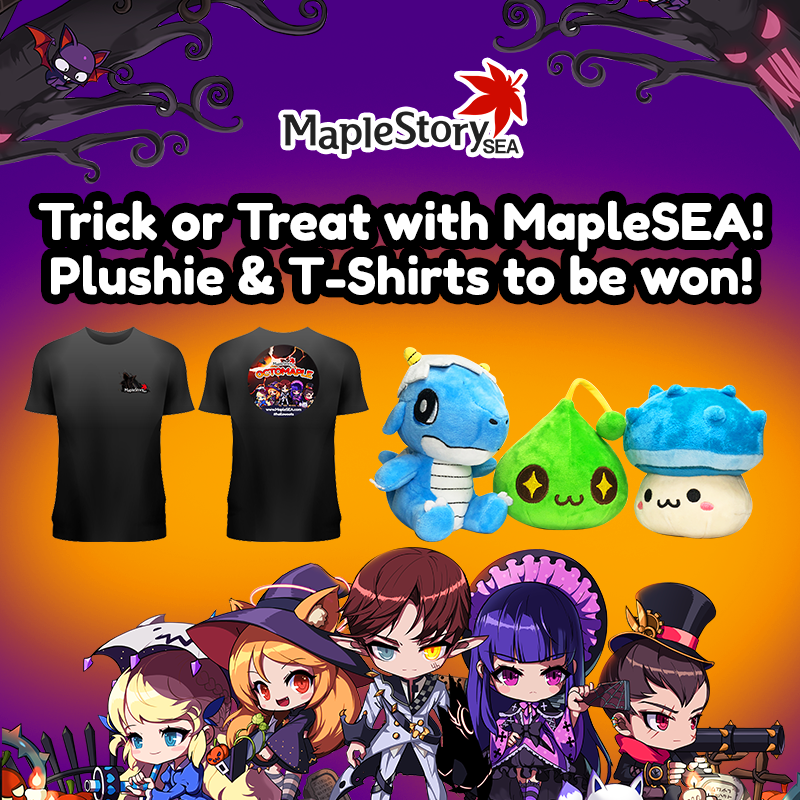 Best dressed is a bonus!
---
Terms and Conditions
• All submissions must be submitted with all the required information. • Entries without required information may be rejected or disqualified without notice. • Winners will only be notified through Facebook Message by CM Venshi after the entire event has concluded. • Each
Maple ID can only win once
, in the event of multiple submissions only the last entry regardless of IGN will be the valid entry. • All decisions by Asiasoft Online and Nexon Corporation are final & binding. • Asiasoft Online and Nexon Corporation reserve the right to edit or change any of the above without prior notice.
-MapleSEA Administrator