Events
06 Dec 2019
MapleStorySEA Year End Party - Back to School?!
Dear Maplers,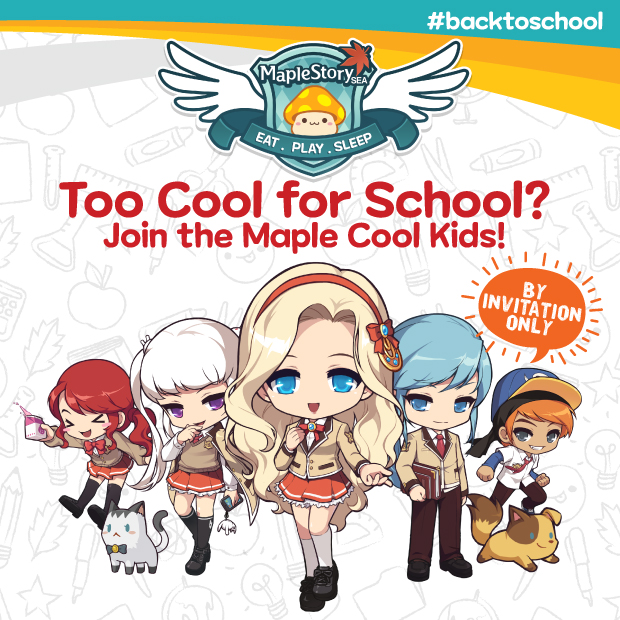 Are you the coolest kid on the block? Keep an eye for a
WhatsApp message
from us to join the rest of the cool Maple kids at MapleStorySEA's Back-to-School year end party.
Eat, drink and be merry with the cool crowd!
Come dressed in your
ideal stylish school uniform
(note: does not have to be an actual school uniform!) and have a blast at Maple High School with CM Venshi and Amber.
Event Details
When
: 21 December 2019,
6pm to 10pm
. Registration begins
5:30pm
!
Where
: YWCA Fort Canning, Singapore
Theme
: Back-to-School
What's Happening?
Dinner will be provided, and there will be loads of fun, games, and various activities! Mingle with other Maplers and talk about MapleStorySEA or anything under the sun at our Year End Party.
There will also be limited edition premiums and merchandize available to all attendees. Invited guests will also have the opportunity to customize their merchandize to bring home!
At the end of the event, there will be a lucky draw. Stand a chance to win prizes such as gaming peripherals from Razer and more!
psst. there will also be a really really REALLY special raffle, and the One that draws the Golden Glory Ticket will walk away with a premium Orchid Figurine to take home! How's your luck recently?
PS: Only selected cool kids that are really active on MapleStorySEA will be invited to join us in this exclusive and premium event!~
- CM Venshi & Amber