Events
10 Dec 2021
Ushering in the Festivities with Lara and Friends!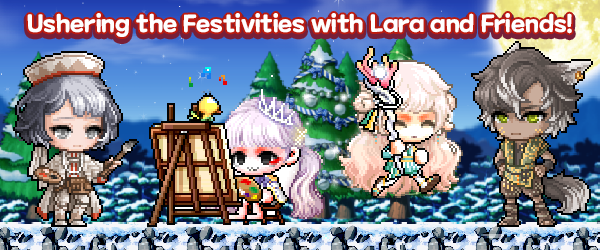 Hey Maplers!
The festive seasons have begun and everybody here at MapleStorySEA would like to celebrate this extended period of joy with everyone! We are hosting a wallpaper design challenge to all players with the theme of [Lara in Festivity], where we would like to see Lara celebrating the different festive occasions with the other MapleStorySEA friends and family members!
Event Duration
10th December 2021 ~ 19th December 2021, 2359hrs (GMT +8)
How to Participate?
We are opening up this creative wallpaper design contest to 3 different categories, with a total of 9 winners to be chosen!
The themes are as follows:
Lara X Christmas
Lara x Lunar New Year
Open Category featuring Lara

Simply design a wallpaper fitting the respective theme of your choice and submit it together with your Maple ID, IGN and World with the Google Form provided at the bottom of this post!

Submission of wallpapers must be done following this format:
Fill up the Google Form on the link below accordingly.
Upload the wallpapers in the Google Form provided below. (Note that only image files can be uploaded for this contest)
You may include multiple image sizes if you wish, but only one, full-size wallpaper is required for your entry. Some typical wallpaper sizes to choose from are listed as below:
Wide Screen (16:9) ↪ 1920 x 1200 ↪ 1920 x 1080 ↪ 1680 x 1050 ↪ 1440 x 900 ↪ 1280 x 800 ↪ 1280 x 720
Full Screen (4:3) ↪ 1600 x 1200 ↪ 1280 x 1024 ↪ 1280 x 960 ↪ 1024 x 768 ↪ 800 x 600

* Please note that you can only submit this Google Form ONCE per Email Address, so if you are submitting for more than one category, please upload multiple images in the same form.


Rewards

Stand a chance to win amazing prizes when your artwork is selected to be one of our top winners! Here are the details of what you can possibly take home!

Participation Prize:
2,000 Maple Points for all valid entries except the top 3 winners in each category!
Each Maple ID can only receive this reward ONCE, regardless of number of categories participated in!

The Top 3 winners for each category will each win:
1x Pink Bean Hug Doll
1x MapleStorySEA Sketchbook
1x MapleStorySEA Gaming Mat
30,000 Maple Points

Prizes for each category are the same, so feel free to participate in any category of your choice!
All winners' artworks will be featured on our website.

Terms and Conditions
PlayPark Pte Ltd and Nexon Corporation may disqualify any submissions deemed inappropriate and/or not suitable without prior notice. Disqualified works shall not be eligible to receive any form of reward.
Nexon Korea Corporation shall own the intellectual property rights to the Contents and any derivative works.
If a winning item is accused of plagiarism, the participant shall forfeit the prize and at the same time the participant shall bear the legal responsibility for the plagiarism. This rule shall also apply to all other non-winning entries who are found guilty of plagiarism.
All submissions must be uploaded to the link provided.
Players must ensure that all particulars submitted in the Google form is correct and accurate.
Players must ensure that their email addresses stated on their MapleSEA Passport account is active and accurate.
PlayPark Pte Ltd and Nexon Korea Corporation will not be held responsible in cases of lost email or wrong IGNs, or cases whereby the recipients of prizes cannot be contacted.
All decisions by PlayPark Pte Ltd and Nexon Korea Corporation are final & binding.