Events
30 Oct 2021
[GM Event] Halloween Invasion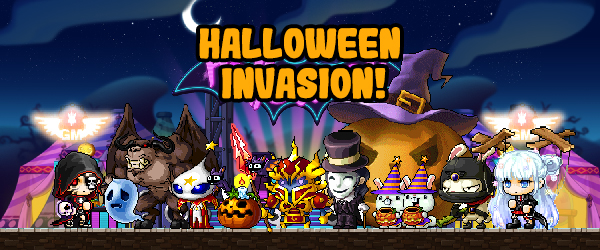 Happy Halloween Maplers!
Get ready to be spooked as our Game Masters are making their rounds through towns, accompanied by monsters of all sorts! Are you game enough to participate in this spook fest or will you be frozen to the spot in fright?
Join hands with other Maplers to attempt to stop the rampaging monsters around town and you might be rewarded with treats from the Game Masters!
How to Participate
• GMs will do a megaphone shoutout in-game to alert of Halloween monsters invading Henesys! • Maplers are to work together to defend the towns from these Halloween monsters! • Stay around to find out if the Game Masters have a surprise trick or a treat for you!
Date & Time
• 31st October 2021, 1600hrs - 1800hrs (GMT+8) • GMs will be appearing at the respective worlds according to the schedule below: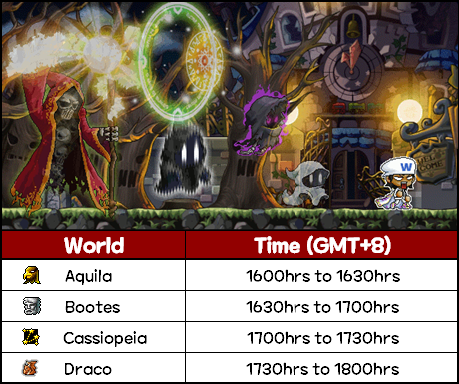 General House Rules
• There may be character deaths involved, so think carefully before participating in the event! • While we wish for all players to have fun, players involved in harassment or misconduct during the event period may be subjected to further actions and/or penalties.
---
Terms & Conditions
1. All decisions by PlayPark Pte Ltd and Nexon Corporation are final & binding. 2. Playpark Pte Ltd and Nexon Korea Corporation reserve the right to take action against any player that violates our abuse policy. 3. PlayPark Pte Ltd and Nexon Korea Corporation reserves the rights to make any changes to the above-mentioned without any prior notice. 4. Playpark Pte Ltd and Nexon Korea Corporation will not be responsible for any loss of items, EXP penalty debuffs or loss of buffs incurred during the course of the event.
Get our latest updates!
Stay tuned to our Facebook, Instagram & Website for the latest updates! •
Facebook
•
Instagram
Trick or Treat?