Events
11 Aug 2021
Feline Pawsitively Purrfect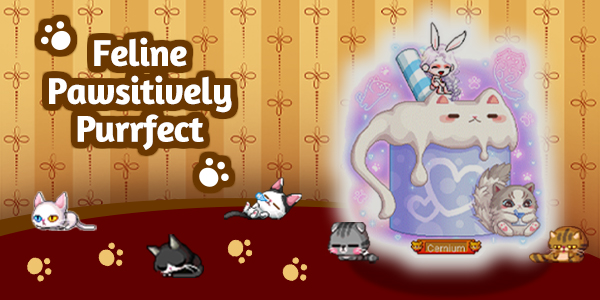 Another day, another mystery solved! The purrfect rangers have saved the day once more and are now headed off to their next mission! Before these furried heroes go, they would like to leave us with something to remember them by… a delectable, fluffy jug of mushymello goodness!
MECHANICS
Simply spend
288,000 Maple Cash
in-game between
11th August 2021, 1900hrs to 31st August 2021, 2359hrs (GMT+8)
to receive a
Mushymello Kitty Chair
.
The Top 100 spenders during this period will additionally walk away with a
Yeti Plush Keychain
!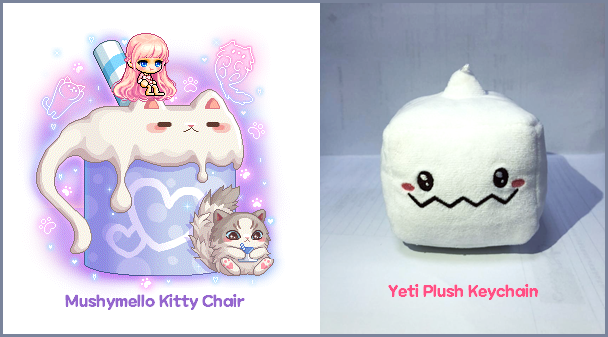 TERMS & CONDITIONS
Promotion is open to all MapleStorySEA players.
Only purchases made in the Cash Shop made with Maple Cash over the event duration of 11th August 2021, 1900hrs to 31st August 2021, 2359hrs (GMT+8) will be accumulated towards meeting the spending criteria.
Crediting of in-game reward will be made to all MapleIDs that fulfils the spending criteria as stated above.
Each MapleStorySEA Passport account will only receive a maximum of ONE (1) Yeti Plush Keychain regardless of the number of MapleIDs within the account that fulfills the event criteria.
In-game purchases that use a mix of Maple Cash and Mileage, or Maple Points will not be included for this event.
Eligible players will receive their Mushymello Kitty Chair within 1 week from the end of the event period and will need to retrieve the item via the Reward Box in-game.
Players must ensure that their email addresses stated on their MapleSEA Passport account is active and accurate.
PlayPark Pte Ltd and Nexon Korea Corporation will not be held responsible in cases of lost email, or cases whereby the recipients of prizes cannot be contacted via their registered email address tied to their MapleSEA Passport account.
Winners will have to bear incidental costs, if any, that may arise for the fulfillment of the prizes.
In light of the current situation with limited mobility, physical prize fulfillment may be delayed. PlayPark Pte Ltd will do their utmost to ensure the proper fulfillment of prizes regardless.
PlayPark Pte Ltd and Nexon Korea Corporation shall not be held responsible for any disputes over the event results or claim of prizes.
PlayPark Pte Ltd and Nexon Korea Corporation reserve the rights to suspend or take action against any user found to breach the policies set forth in our Terms of Use, User Abuse Policy, and Rules of Conduct without any prior notice.
PlayPark Pte Ltd and Nexon Korea Corporation reserve the right to amend and/or remove the promotion and associating terms and conditions at its discretion without any prior notice.
All decisions by PlayPark Pte Ltd and Nexon Korea Corporation are final & binding.