Events
25 Nov 2020
Earn Your Mantle! Union Arena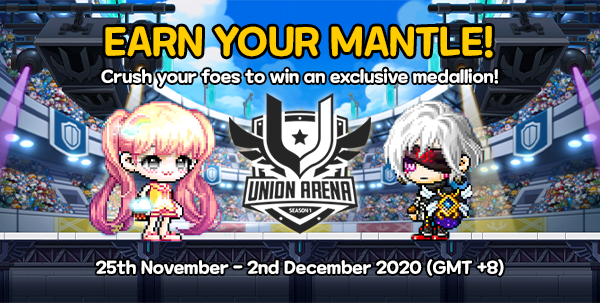 Form up your dream team and prepare for battle!
You won't be fending off another great evil in Maple World – instead you'll be facing off against, other Maplers!
For new fighters, a detailed summary explaining how Union Arena works can be found
here
. Or if you prefer a concise video coverage on the basics of UA, you may watch the
feature video
by Vardain and MapleSEA Cute Admin.
From
25th November 2020 to 2nd December 2020, 2359 Hours (GMT+8)
, we are challenging Maplers across worlds to secure a
minimum
of
80
wins.
At the end of the event period,
we will be selecting 30 random winners who will receive an exclusive, customised Union Arena medallion!
Here's what you need to know:
• Earn your Mantle! will run from
25.11.2020 – 02.12.2020
, 2359 hours (GMT +8). • Participants are required to secure a minimum of 80 victories during the event period. •
Participants will need to submit a screen shot of their total wins to the original social post on FaceBook via a specific method, refer to the step-by-step below.
• Along with the screen shot, do include your IGN and world. • Earn your Mantle! rewards are separate from current in-game ranking rewards.
---
Getting the screen shot:
1. Click on the star notifications on the left side of your screen.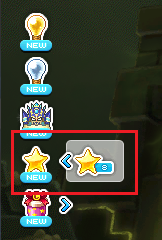 2. Select [Union Arena] Union Arena Season 1 for eligibility to fight.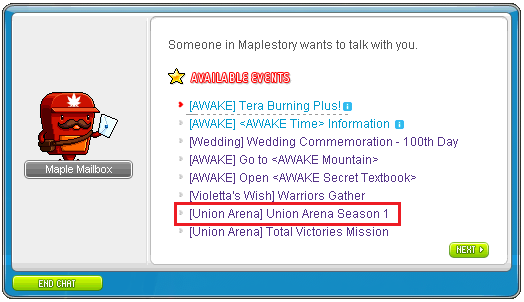 3. Head into the arena and chalk up your victories.
4. At any point of time, from star notifications, select [Union Arena] Total Victories Mission to track the numbers of victories.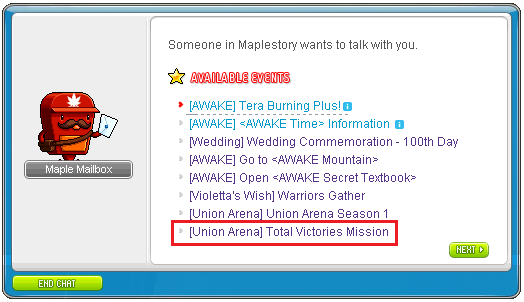 5. Once it displays as 80, take a
full screen shot
and
comment
on the original Facebook contest post along with your
IGN
and
world
!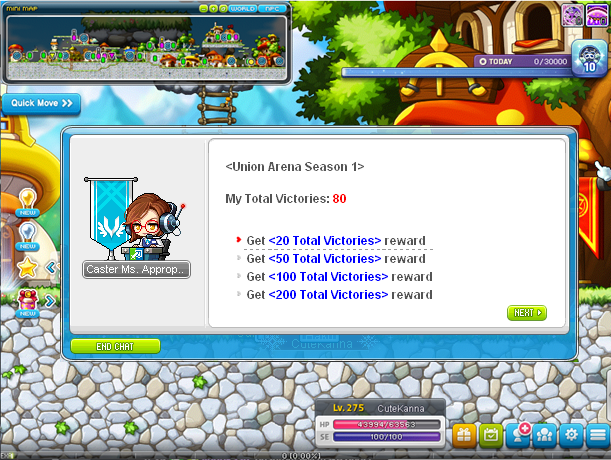 ---
Terms & Conditions
• Only players who fulfil the event requirements and instructions will be included for selection. • A total of 30 winners will be selected at random. • Winners of the event will be contacted via their registered email addresses. • Players must ensure that their
email addresses stated on their MapleSEA Passport account is active and accurate.
• PlayPark Pte Ltd and Nexon Korea Corporation will not be held responsible in cases of lost email, or cases whereby the participants cannot be contacted via their registered email address tied to their MapleSEA Passport account. • Winners will have to bear incidental costs, if any, that may arise for the fulfilment of the prizes. • In light of the current situation with limited mobility, physical prize fulfilment may be delayed. PlayPark Pte Ltd will do their utmost to ensure the proper fulfilment of prizes regardless. • PlayPark Pte Ltd and Nexon Korea Corporation shall not be held responsible for any disputes over the event results or claim of prizes. • PlayPark Pte Ltd and Nexon Korea Corporation reserves the rights to suspend or take action against any user found to breach the policies set forth in our Terms of Use, User Abuse Policy, and Rules of Conduct without any prior notice. • PlayPark Pte Ltd and Nexon Korea Corporation reserve the right to edit or change any of the above without prior notice. • All decisions by PlayPark Pte Ltd and Nexon Korea Corporation are final & binding.