Events
27 Feb 2019
LINE FRIENDS Collectibles, Collector!
Are you a die hard collector? Aiming to get dressed like our LINE FRIENDS? Get a snazzy Collector's chair
EXCLUSIVE
to this event!
Ultimate Collectibles Collector
• From 27 February to 27 March 2019, special LINE FRIENDS Cash items will be available in the Cash Shop. • Stay tuned to Cash Shop update notices for more details. • Players who purchase
150,000
@cash worth of LINE FRIENDS items will get a special reward. • Gifting of these special items to friends will also be considered as a valid purchase. Please note that some sales items may not be gifted to others. Full list of eligible items:
(last updated 27 February 2019, will be updated as more Cash Shop Updates are available)
• Cony Random Box
• Leonard Random Box
• Sally Random Box
• [PET] Fresh Green Leaf
• [PET] Sparkling Edward
• Fresh Mushroom
• Ripe Apple
Event Date :
• 27th February to 27th March 2019
Reward for completing the mission :
• LINE FRIENDS x Maple Mash-up Chair (untradeable) will be credited to all eligible users via email in the form of a redemption code within 2 weeks after the end of the event.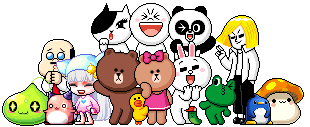 Let's take in Spring with a whole new collection!
Terms and Conditions
Total spending will be based on user's registered MapleSEA Passport, cumulative of all Maple IDs in the same passport.
Users will be entitled to one reward code for every 150,000 @cash spent on LINE FRIENDS related items
Only purchases made entirely in Maple Cash is eligible for this promotion. Purchases made with Maple Points or partially offset by Mileage will not be accounted for.
Players who have made successful purchases and are eligible for rewards will receive the reward item via an item code.
Item codes will be sent to the player's registered email address on their MapleSEA Passport ID.
Players must ensure that their email addresses stated on their MapleSEA Passport account is active and accurate. Playpark Pte Ltd and Nexon Korea Corporation will not be held responsible in cases of lost email, or cases whereby the participants cannot be contacted via their registered email addressed tied to their MapleSEA Passport account.
Playpark Pte Ltd and Nexon Korea Corporation reserves the rights to make any changes to the above mentioned without any prior notice.
Playpark Pte Ltd and Nexon Korea Corporation reserve the right to disqualify and take action against any player that violates our abuse policy.