Events
30 Jan 2022
Tiger-rific Treasures Among Lunar Wishes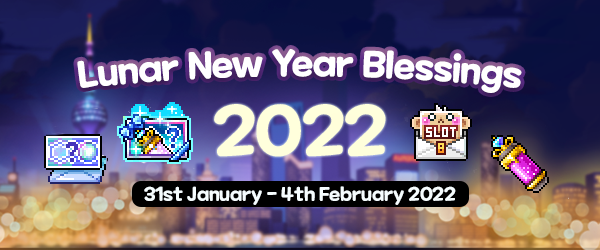 Gong Xi Fa Cai Maplers!
Celebrate this Lunar New Year with MapleStorySEA as we present to you, not one, not two, not even three, but FIVE days of login rewards for each Mapler to claim!
We would also like to take this opportunity to thank every Mapler for their continuous love and support for us, driving us to keep improving towards a better MapleStorySEA experience for everybody. Start off the year of the Tiger with us with these gifts that encourage growth and prosperity amongst Maplers!
---
Event duration: 31st January 2022, 0000hrs (GMT +8) ~ 4th February 2022, 2359hrs (GMT +8)
Simply stay online for an hour to be eligible for each day's gift, with a total of 5 gifts to collect across all 5 days!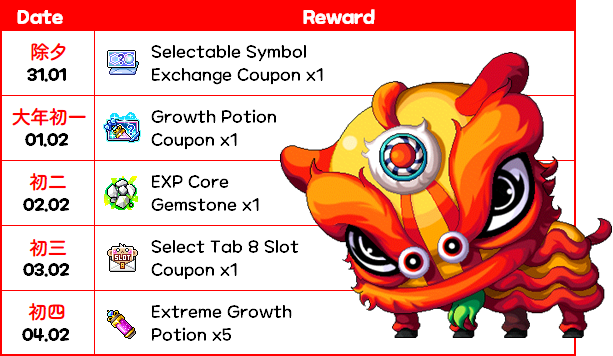 Note:
You may only claim the reward once per MapleID.
All rewards will be obtainable via the Reward Box icon

, located on the left side of the screen.
All rewards from the Lunar New Year 2022 Login Event are Inter-Account Tradeable, EXCEPT for Select Tab 8 Slot Coupon so be sure to claim this item on the character for which you wish to expand the inventory slots.

---
FAQs

Q: I logged in before 2359hrs, why can't I claim any reward? A: You need to clock in the required minimum online time of 60 consecutive minutes before the reward claim period expires each day at 2359hrs from 31st January 2022 to 4th February 2022.
Q: I managed to clock in the required time, why wasn't I able to claim the reward? A: You have to claim the reward before the claim period expires at 2359hrs, daily.
Q: Can I switch characters? A: If you disconnect from the character serving the 60-minute timer, the quest timer will reset and you will need to start all over again.
Q: I missed the previous dates rewards, can still get them? A: No. All rewards are strictly tied to the specific dates/days. Remember to claim them daily as early as possible to avoid missing out on the rewards as they expire at 2359hrs each day.