Events
20 May 2020
Adele's Challenge - Are you up for it?
To all budding Adeles... Are you ready to rise up to the challenge?
Participate in Adele's challenge and stand a chance to walk away with a
full-sized body pillow of Adele
!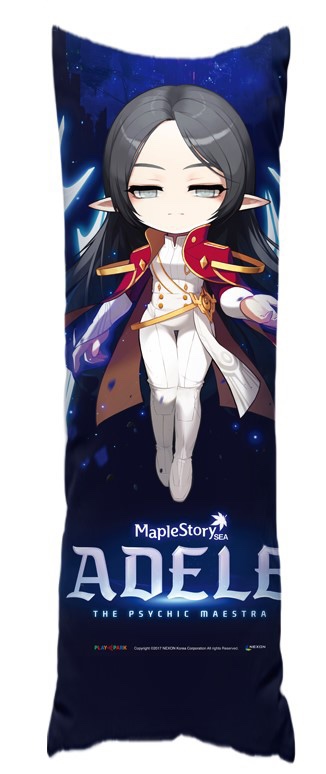 Image shown is for illustration purposes only. Due to differences in monitors, colours may appear differently.
Event Duration:
21st May 2020, 0000hrs ~ 14th June 2020, 2359hrs
Complete
ONE of the following
tasks below the fastest you can, and
post a screenshot or video of your achievement
on either Facebook, Twitter, or Instagram, and submit your Challenge Entry in the form linked below!
Be the first Adele to either:
Reach Level 230
Complete "Collecting Huckle's Magic Ingredients" quest
Complete all Blockbuster Content
 ↪ Black Heaven
 ↪ Heroes of Maple  ↪ Friends Story
 ↪ MONAD
Complete all 3 Victoria Island Jump Quest Challenges
 ↪ Forest of Endurance (Sleepywood) - John's Last Present
 ↪ Forest of Patience (Ellinia) - Double-rooted Red Ginseng
 ↪ Construction Site (Kerning City) - Shumi's Lost Sack of Cash

The fastest Adele will be the winner for each challenge stated above, for a total of four winners. One is really about a matter of speed, isn't it? All the best!

Please refer to the screenshot requirements as set out below:

A full unedited screenshot (default key: Scroll Lock) or video showing your IGN clearly, with the Challenge Requirements met
 ↪ Additional details showing quest completion status and Blockbuster UI is recommended for quest completion challenges
Challenge Entry Submission

Submission form will be available from 21st May 2020, 0000hrs onwards
Terms & Conditions
This challenge is only available to Adele players.
Challenges must be attempted by Adele.
Media entry must be posted to either Facebook, Twitter, or Instagram, with the permalink (usually obtained by clicking on the timestamp of the post) included in the Challenge Entry submission.
Media entry must be publicly visible on the social network site that you are posting on until the end of the event duration.
All Challenge Entries must then be submitted via the designated Google Forms link.
Submissions are subject to verification and checks of actual in-game completion time.
Only entries submitted via the appropriate forms with all required submissions will be eligible to win the Challenge.
Winners of the event will be contacted via their registered email addresses within 2 weeks after the event has concluded.
Players must ensure that their email addresses stated on their MapleSEA Passport account is active and accurate.
PlayPark Pte Ltd and Nexon Korea Corporation will not be held responsible in cases of lost email, or cases whereby the participants cannot be contacted via their registered email address tied to their MapleSEA Passport account.
Winners will have to bear incidental costs, if any, that may arise for the fulfillment of the prizes.
In light of the current situation with limited mobility, physical prize fulfillment may be delayed. PlayPark Pte Ltd will do their utmost to ensure the proper fulfillment of prizes regardless.
PlayPark Pte Ltd and Nexon Korea Corporation shall not be held responsible for any disputes over the event results or claim of prizes.
PlayPark Pte Ltd and Nexon Korea Corporation reserves the rights to suspend or take action against any user found to breach the policies set forth in our Terms of Use, User Abuse Policy, and Rules of Conduct without any prior notice.
PlayPark Pte Ltd and Nexon Korea Corporation reserves the rights to make any changes to the above mentioned without any prior notice.
PlayPark Pte Ltd and Nexon Korea Corporation reserve the right to edit or change any of the above without prior notice.
All decisions by PlayPark Pte Ltd and Nexon Korea Corporation are final & binding.