Events
30 Dec 2021
New Year 2022 Login Event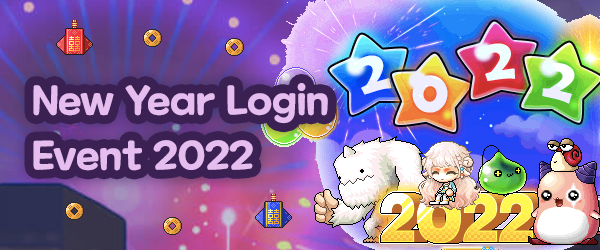 MapleStorySEA is kickstarting 2022 with a special login event coming your way! As 2021 reaches its final conclusion, let us celebrate the beginning of 2022 starting from it's eve with some memorable goodies to commemorate a new year of hope and opportunities!
Happy New Year 2022!
---
Event duration: 31st December 2021, 0000hrs (GMT+8) ~ 1st January 2022, 2259hrs (GMT+8)
Spend some time catching up with your loved ones in MapleStorySEA by reminiscing about good ol times or iconic shenanigans that have played through in 2021 or continue your grind towards the new level cap released months ago, either way, be rewarded for simply staying online for an hour (1 hour), or 60 minutes, to receive a Happy New Year (Cash Weather buff) and a Happy New Year 2022! Chair which comes together with FREE BALLOONS!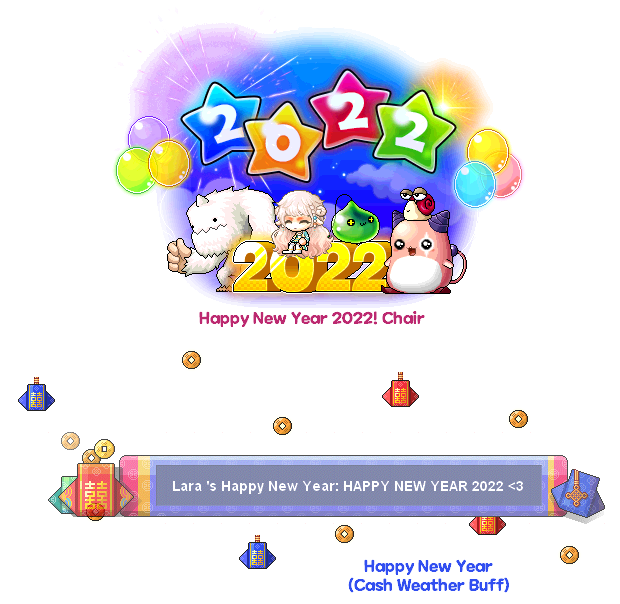 Note:
You may only claim the reward once per MapleID.
All rewards will be obtainable via the Reward Box icon

, located on the left side of the screen.
All rewards from the New Year 2022 Login Event is Untradable, so please be sure to login to the desired character on which you wish to claim these rewards.

---
FAQs

Q: I logged in before 2359hrs, why can't I claim any reward? A: You need to clock in the required minimum online time of 60 consecutive minutes before the reward claim period expires at 2359hrs on 1st January 2022.
Q: I managed to clock in the required time, why wasn't I able to claim the reward? A: You have to claim the reward before the claim period expires at 2359hrs, 1st January 2022.
Q: Can I switch characters? A: If you disconnect from the character serving the 60-minute timer, the quest timer will reset and you will need to start all over again.