Events
20 Jan 2020
2020 Lunar New Year SHOP & HUAT
Dear Maplers,
Lunar New Year is upon us, and it's time to HUAT it up with MapleStorySEA!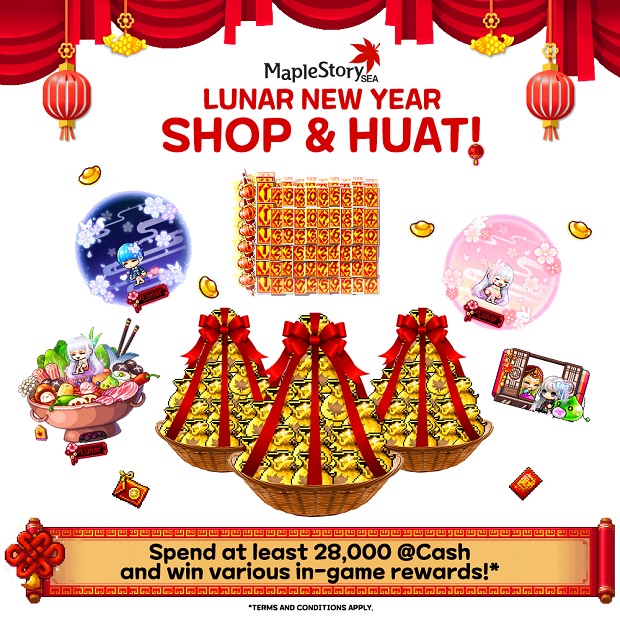 Simply spend at least
28,000 @Cash
in the Cash Shop between 20 January 2020 to 02 February 2020 to HUAT this Lunar New Year!
Event Duration: 20 January 2020 ~ 2 February 2020, 2359hrs
Spend more, HUAT more! For every spending amount achieved, win even MORE prizes!
Accumulate your spending to
188,000 @Cash
and stand a chance to be one of THREE lucky winners to walk away with our
our exclusive 2020 MapleSEA Mini HUAT Hamper!
Players who have accumulated the most amount of spending in the Cash Shop across the event period will win a
2020 MapleSEA Grand HUAT Hampers.
We have three Grand Hampers to be given away! What's in the hamper? Shh. It's a secret.
Our
2020 HUAT Hampers
contain goodies for a great start to a year, with
exclusive MapleSEA merchandize
and more!
All eligible participants (with min. spending 28,000 @Cash) will also win an Angbao filled with 988 Mileage points.
---
**Rewards earned are accumulative (with the exception of the Cherry Blossom Hat, whereby players who spent accumulative 188,000 @Cash will be eligible for both Hairpin rewards, a Hotpot Chair, a Mistress's New Year's Day Chair, and a Damage Skin - Red Envelope)
---
Terms and Conditions
Only purchases made in the Cash Shop made with Maple Cash over the event duration of 20 January 2020 to 02 February 2020 will be accumulated.
Rewards will be accumulative, and each MapleStorySEA Passport ID will not be able to win more than 1 item per tier.
Eligible participants for the 128,000 @Cash Shop & Huat Rewards will receive one of the Cherry Blossom Fox Hairpin OR Cherry Blossom Bunny Hairpin at random.
Eligible participants for the 188,000 @Cash Shop & Huat Rewards will receive both Cherry Blossom Fox Hairpin and Cherry Blossom Bunny Hairpin. They will not receive an additional random reward from the 128,000 @Cash spending tier.
In-game Item Rewards will be distributed in code form via email to all eligible Passport holders' registered email addresses within 2 weeks after the event has concluded.
Images shown are for illustrations purposes only. Hampers will contain physical prizes.
PlayPark Pte Ltd reserve the right to replace any of the rewards as stated above without notice with a reward of equal value.
Players must ensure that their email addresses stated on their MapleSEA Passport account is active and accurate. PlayPark Pte Ltd and Nexon Korea Corporation will not be held responsible in cases of lost email, or cases whereby the winners cannot be contacted via their registered email address tied to their MapleSEA Passport account.
PlayPark Pte Ltd and Nexon Corporation shall not be held responsible for any disputes over the results and conclusion of the event winners.
All decisions by PlayPark Pte Ltd and Nexon Corporation are final & binding.
PlayPark Pte Ltd and Nexon Corporation reserve the right to edit or change any of the above without prior notice.