Events
07 Aug 2022
17th Glittery Fantasale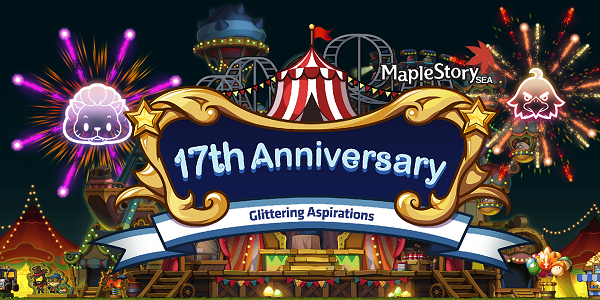 17 Years ain't a short time!!
To celebrate our 17th Anniversary, we are holding special offline sales at our Glittering Aspirations offline event, held at both Sunway Pyramid in Malaysia and Plaza Singapura in Singapore!
For more information about our offline event, please check here -
Gliterring Aspirations!
* Important Note:
A maximum of FIVE (5) UNITS PER ITEM per order form will be processed per transaction. All items have limited quantities and are sold on a first-come, first-served basis.
Prices shown in
Singapore Dollar
equivalent value. Transactions in Malaysia will occur at a
1:3 value of Singapore Dollar (SGD) to Malaysian Ringgit (MYR)
.
1)
Decorative Packages
2)
Individual Decorative Weapons
3)
Selectable Hair and Face Coupons
4)
Multi-Pet Packages
5)
Permanent Chairs
6)
Damage Skins
---
DECORATIVE PACKAGES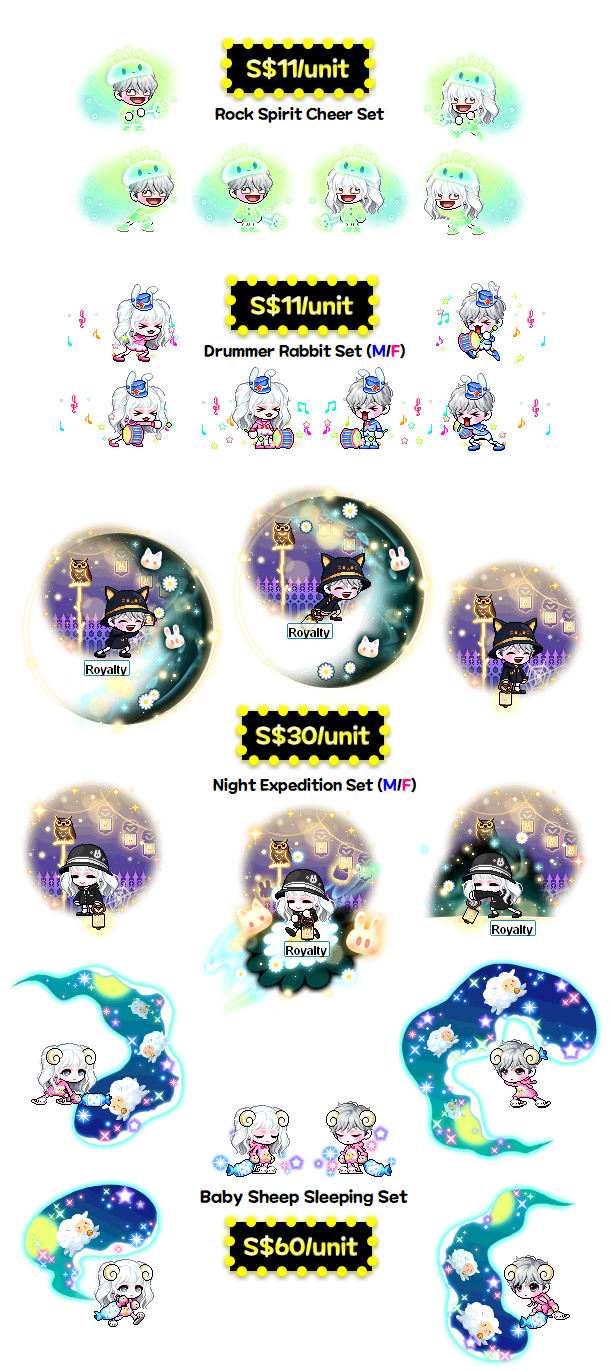 The
Baby Sheep Sleeping Set
consists of 5
Special Label
items: Baby Sheep Hair Clip (Hat), Baby Sheep Pajamas (Overall), Baby Sheep Fur Gloves (Gloves), Baby Sheep Slippers (Shoes). and Dreamy Candy Pillow (Weapon)

INDIVIDUAL DECORATIVE WEAPONS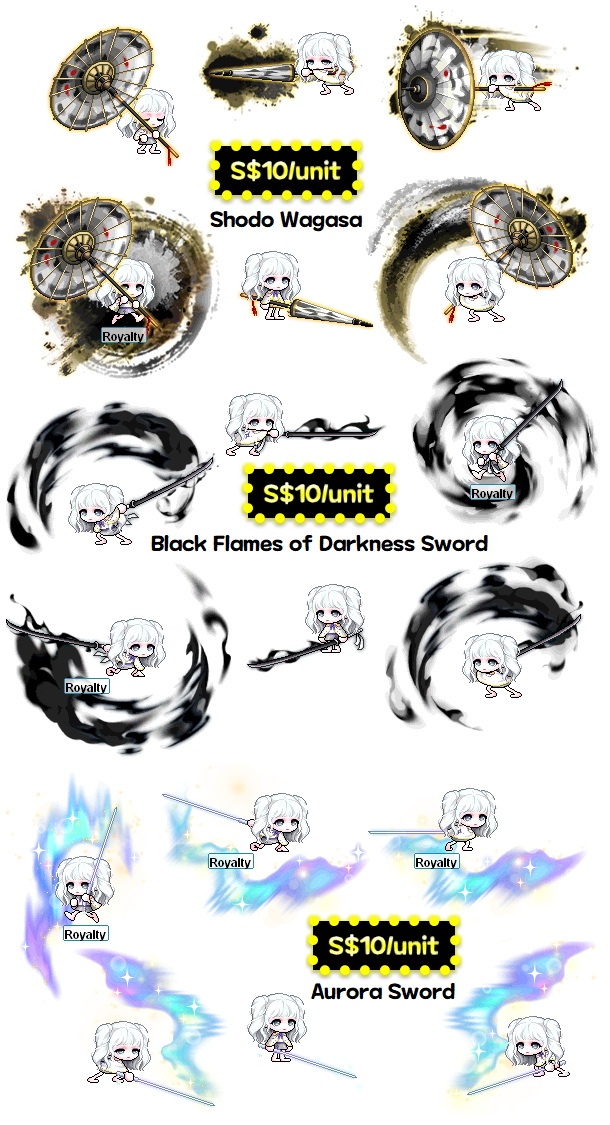 SELECTABLE HAIR AND FACE COUPONS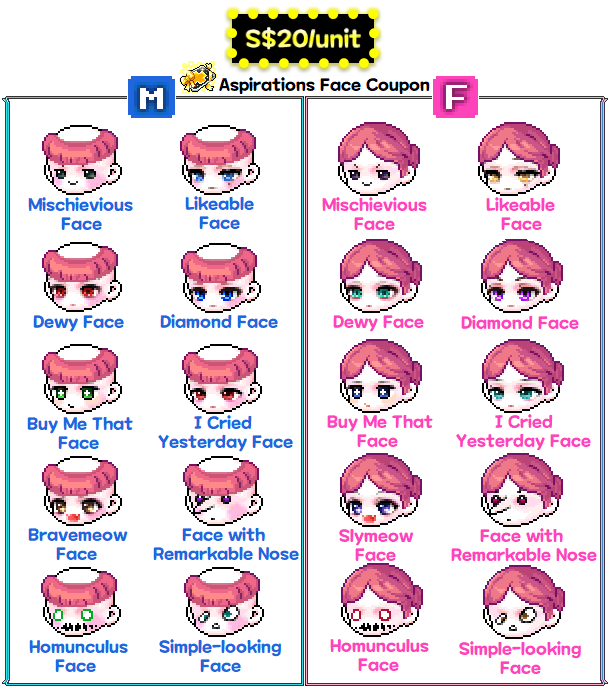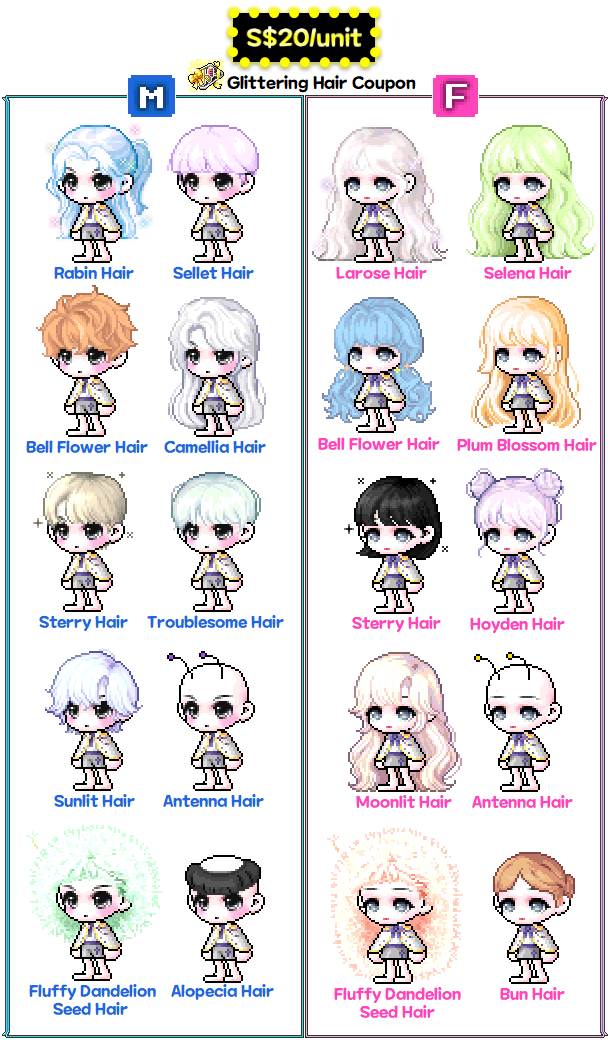 MULTI-PET PACKAGES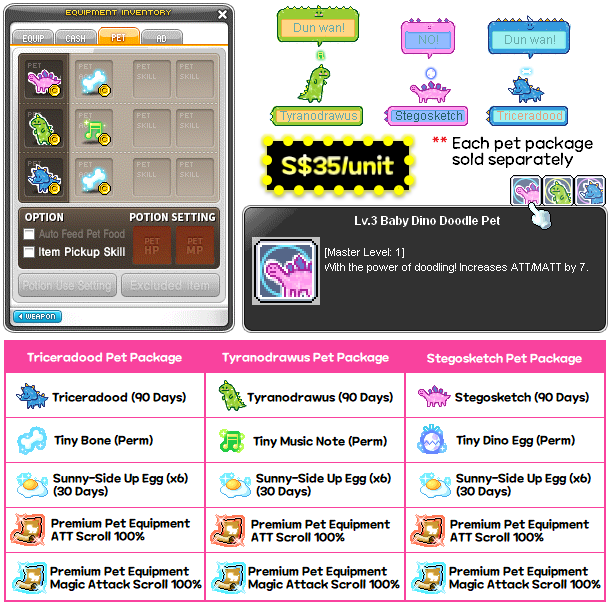 PERMANENT CHAIRS


DAMAGE SKINS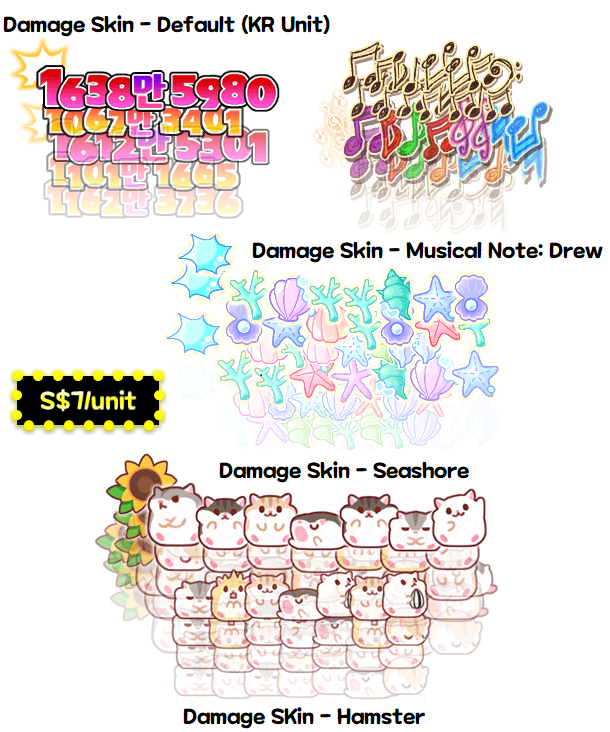 ADDITIONAL INFORMATION
DECORATIVE PACKAGES
Drummer Rabbit Set (M/F) are gender locked.
Night Expedition Set (M/F), Rock Spirit Cheer Set and Baby Sheep Sleeping Set are NOT gender locked.

MULTI-PET PACKAGES

All Pet Equipment associated to each pet has 10 upgrade slots.
Premium Pet Equipment scrolls are Tradable and Permanent.

PERMANENT CHAIRS

All Afterlands chairs feature different weather background each time you sit on it.
The following chairs are Untradeable: Skuas at Peace and Spirit's Melody Chair (All other chairs are tradable)

DAMAGE SKINS

All Damage Skin are tradable, with the exception of Damage Skin - Hamster (Inter-Account only).





PURCHASE BONUS

Every SGD50 or RM150 spent in a single transaction entitles you to 1 Lucky Draw chance! Fill in your details and drop it off at the Lucky Draw Box near the stage and stand a chance to win a variety of rewards!

Every SGD10 or RM30 spent in a single transaction entitles you to 1 additional Auction Currency! This Auction Currency can be used at the end of every event day where you can bid for items with the Auction Currency!

TERMS AND CONDITIONS


You may purchase a maximum of FIVE (5) UNITS PER ITEM per order form.

We will only process ONE(1) order form per queue. If you have multiple order forms, you are invited to re-queue after.

All purchase prices are stated in Singapore Dollars (SGD) on the website.

Only Cash will be accepted for the transaction.

Only Cash in Singapore Dollar (SGD) will be accepted for transactions at the Singapore event venue at Plaza Singapura from 19th to 21st August 2022.

Only Cash in Malaysian Ringgit (MYR) will be accepted for transactions at the Malaysia event venue at Sunway Pyramid from 12th to 14th August 2022.

Items purchased are virtual items for use in MapleStorySEA and will be presented in the form of a 30-digit coupon code on a card.

Purchases are based on a first come first served policy.

All goods sold are non-refundable, non-returnable, and non-replaceable.

There will not be any refunds for any items purchased mistakenly.

Codes that have not been redeemed before their respective expiry dates will not be reimbursed.

We will not be responsible for any loss of codes. Please keep your purchases in a safe location.

There are limited quantities of items available.

Should you encounter difficulties in redeeming any of the codes, kindly send an iBox ticket within 2 weeks from the date of purchase for further assistance.

PlayPark Pte Ltd and Nexon Korea Corporation reserves the rights to suspend or take action against any user found to breach the policies set forth in our Terms of Use, User Abuse Policy, and Rules of Conduct without any prior notice.

PlayPark Pte Ltd and Nexon Korea Corporation reserves the rights to make any changes to the above mentioned without any prior notice.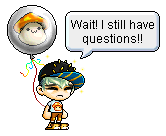 QUESTIONS AND ANSWERS

Q: Where can I buy all the items as displayed above?
A: These items will only be available for sale during our Glittering Aspirations offline event located at Sunway Pyramid and Plaza Singapura

Q: Can I buy as many items as I want?
A: You may purchase a maximum of FIVE (5) UNITS PER ITEM per order form, which will be processed per queue. You are free to re-queue to purchase above this quantity.

Q: How do I redeem my item code(s)?
A: You can redeem your codes via the Cash Shop in-game. Click the

button at the top right corner of the screen and enter your code in the empty fields before clicking on 'OK'.

Q: After redeeming the items, can they be traded to other people?
A: Please note that each item has their own tradeability or restriction. You may trade Coupon Codes at your own risk.

Q: Can I pay via cashless payment methods or mobile wallet options?
A: Only Cash will be accepted at the point of sale. Please remain vigilant.

Still have a question? Do contact us via iBox for us to check on it!





See you at our Glittering Aspirations! =)




---