Events
16 Dec 2021
MapleStorySEA X MapleStoryM Crossover event: Light the Path ahead!
Hey Maplers!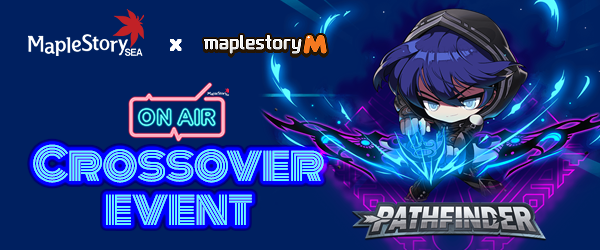 Watch out for this special crossover event happening between MapleStorySEA and MapleStoryM!
The new archer class, Pathfinder, makes their way into MapleStoryM! Discover the secrets of Partem on the go as our treasure-seeking adventurer goes portable!
In addition to MapleStoryM's latest family member,
be rewarded in MapleStorySEA when you play and achieve level milestones on your Pathfinder in MapleStoryM
!
Event Duration: 16/12/2021 ~ 19/01/2022
How to participate?
Link your MapleStoryM and MapleStorySEA accounts by talking to the Maple Administrator in MapleStorySEA towns and selecting "Check MapleM Cross Event String" and keying in the string to your MapleStoryM account. For a guide on how to do this, visit this link.
Create and play Pathfinder on MapleStoryM.
Hit the different level milestones of 70, 120, 140 on your MapleStoryM Pathfinder and be rewarded in MapleStorySEA!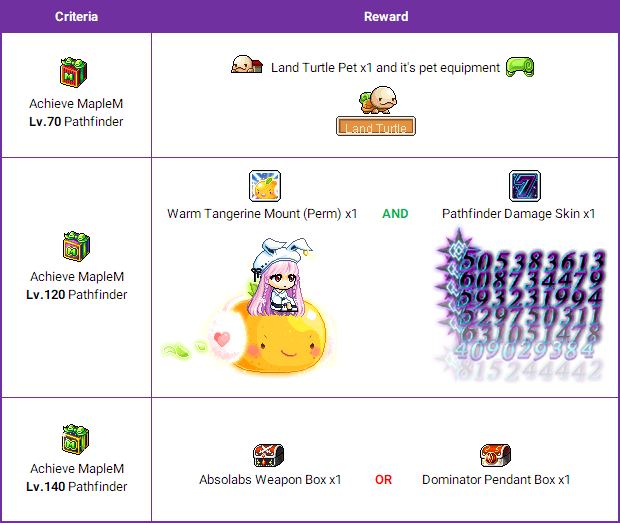 Terms & Conditions
This campaign is available to all MapleStoryM and MapleStorySEA players.
Users will be eligible for the rewards as long as they fulfill the level milestones criteria as stated above in the 'How to Participate' section.
Each linked MapleID will only be eligible to receive ONE SET of rewards listed above, regardless of the number of Pathfinder characters within the MapleStoryM account hitting the milestones.
Rewards can be claimed in the Gift Box Notification on the left of the screen only in February 2022, the final date will be announced at the related server check notice.
Reimbursement for unclaimed rewards after the Reward Claim Period will not be entertained.
PlayPark Pte Ltd and Nexon Korea Corporation reserve the rights to suspend or take action against any user found to breach the policies set forth in our Terms of Use, User Abuse Policy, and Rules of Conduct without any prior notice.
PlayPark Pte Ltd and Nexon Korea Corporation reserve the right to amend and/or remove the event and associated terms and conditions at its discretion without any prior notice.
All decisions by PlayPark Pte Ltd and Nexon Korea Corporation are final & binding.
- MapleSEA Administrator