Events
13 May 2022
GM's Thank-You-For-Your-Donation Buff Event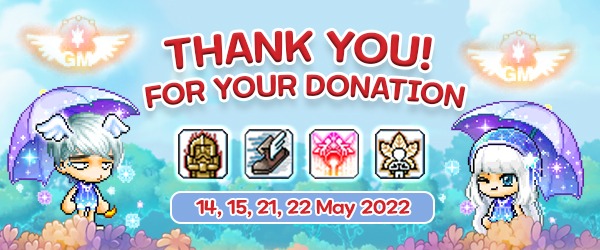 Hey Maplers,
Thanks to your brave heroes who have contributed to the Blood Donation drive, your beloved GMs have decided to pitch in as well! They will be roaming around to bless our players with extra buffs in the name of our selfless heroes, so catch them during their rounds!
How to Participate
• GMs will do a megaphone shoutout in-game before they appear, so keep your eyes out for them! • Participation is open to all!
Date & Time
• Weekend of 14th - 15th and 21st - 22nd May 2022 • 1800hrs ~ 1900hrs (GMT +8) : Aquila and Bootes • 1900hrs ~ 2000hrs (GMT +8) : Cassiopeia and Draco • GMs will be appearing
anytime within the time provided
above the respective worlds.
General House Rules
• While we wish for all players to have fun, players involved in harassment or misconduct during the event period may be subjected to further actions and/or penalties.
---
Terms & Conditions
1. All decisions by PlayPark Pte Ltd and Nexon Corporation are final & binding. 2. PlayPark Pte Ltd and Nexon Corporation reserve the right to edit or change any of the above without prior notice. 3. Playpark Pte Ltd and Nexon Korea Corporation reserve the right to disqualify and take action against any player that violates our abuse policy.
Get our latest updates! Stay tuned to our
Facebook
,
Instagram
& Website for the latest updates!
- MapleSEA Administrator