Announcements
18 Dec 2013
[Update] Characters Stuck In Game After Server Check


Dear Maplers,

Please be informed that we are aware of the current issues regarding Maple IDs being stuck in game.

We would like to advise players to avoid clicking on the "Running Attack" event notification as of now as we are identifying to root of the cause of the issues faced by many.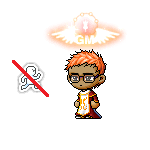 For players who find their characters getting stuck in game even though they
did not click
on the "Running Attack" notification, kindly assist us by providing as much information as possible at this forum thread
here
, and providing as much detail as possible on what you were doing prior to encountering the issue.
We greatly appreciate your kind understanding and cooperation to bear with us during this period of time. We would like to sincerely apologize for the inconvenience caused.
Update as of 18th December 2013 1940hrs:
Included forum thread link for players to provide information regarding the issue encountered.
– MapleSEA Administrator