Announcements
26 Aug 2019
Cessation of Collection of NRIC and Other National ID Numbers
Dear Maplers,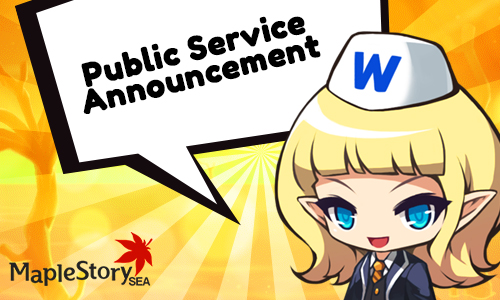 Some important changes will be introduced in accordance with the
Personal Data Protection Commission of Singapore
's advisory guidelines on the collection and usage of NRIC numbers which will come into full effect this coming 1st September 2019.
As part of our commitment to ensure that your data is secure, Playpark Pte Ltd/Asiasoft Online will cease to collect, process or use NRIC and other national identification numbers for the registration and verification of its unified Passport and game accounts.
Removal of NRIC data from Asiasoft Passport registered details
All previously recorded and stored NRIC number information will be disposed of securely from our Asiasoft Passport and iBox database. Due to the stringent nature of this process to ensure safe and secure data removal, the action is irreversible and as such, all personal identification data that has been removed will not be recoverable.
Services requiring continued usage of NRIC
Do note however, that physical checking and sight of NRICs may still be required for the purpose of establishing the identity of users, for example during collection of prizes. The NRIC will be returned immediately to the user, with no collection or recording of the personal identification number.
New Passport Portal
As part of our efforts to accommodate this change and to enhance your user experience with us, we will be introducing a newly revamped Passport website in the next few days to come. All new registration of Asiasoft Passport Accounts at
https://passport.asiasoftsea.com/
will be temporarily disabled. You will still be able to login and perform activities like creation of MapleIDs and i-Gacha accounts, password resets/changes, @Cash topup and conversion to game cash until this portal is migrated to our new one.
Mobile Number OTP
A mobile number one-time-password (OTP) authentication method will be introduced to secure your account.
We will provide more information on how to convert to the mobile number OTP authentication method soon, so stay tuned for our next update on this topic.
To find out more on our Privacy Policy and how we may use your personal data, kindly visit
http://www.maplesea.com/support/privacy-policy/
.
---
Frequently Asked Questions
Q: Do I need to do anything to prepare for the upcoming changes?
A:
It is recommended that you keep your Asiasoft Passport accounts passwords and registered email addresses up-to-date, especially if you have been sharing your login credentials despite our terms of use which prohibits account sharing.
Q: I used an NRIC to register for an account back then, can I still access that account?
A:
Yes, the new changes to the guidelines on the collection of NRIC particulars do not affect your current access to your account.
Q: My account was suspended/banned previously, and I couldn't produce the NRIC for account verification to get it unbanned. How can I recover it?
A:
You may contact our Customer Service via iBox and request for account verification. You will be required to furnish your in-game account particulars and sufficient proof that you are the account owner. After which, your account will be released and you will be able to verify it with your mobile number. Accounts permanently banned for severe offences will not be releasable.
Q: I have 5 Passport accounts, but only 1 mobile phone number. Help!
A:
Under our Rules of Conduct which can be found
here
, it is explicitly stated that users may not hold multiple Passport accounts.
Q: I don't have a Mobile Phone or a valid Mobile Number that I can use! Can I skip this?
A:
You will still be able to access your MapleStorySEA account and continue to play the game without securing your Passport account with a Mobile OTP. However, to perform several actions such as resetting or changing your passwords, updating your email address, or the charging and conversion of @Cash and Maple Cash, a valid Mobile Number is required. This is to prevent misuse of your account by any unauthorized parties.
Q: This is too cumbersome, and I no longer play this game. Can you delete my account?
A:
MapleStorySEA Passport accounts and all game accounts contained within cannot be deleted once they have been created due to server policy restrictions and limitations. We can only suspend the whole account permanently and wipe your registered personal particulars if you do not wish to continue playing our games and using our services. All unique particulars registered to the account such as LoginIDs and 13-digit PassportIDs cannot be re-used to recreate other accounts.
- MapleSEA Administrator