Announcements
15 Apr 2022
Advisory on Blooming Forest Wish Coins and Spirit Points Adjustments

Dear Maplers,
It has been brought to our attention that there is a struggle in earning sufficient event coins from the Blooming Forest festival with such a short event duration. As gathered from our players' feedback, there are difficulties buying out items from the Wish Coin shop in particular. We have also placed our players' best interests at heart and have made growth potions more easily acquirable by adjusting Spirit Point exchange requirements.
We hope that by making these adjustments, our players can have an immersive experience with the Blooming Forest Festival and enjoy the celebrations due!
First and foremost, all players will have the opportunity to receive additional Wish Coins through a special login event specially catered for the Blooming Forest Festival.
More information will be posted once the details have been finalized so do stay tuned to our website for updates soon!
In addition to the above login event, we will also be adjusting the Spirit Point requirements for growth potions to make it easier for players to obtain higher tier growth potions: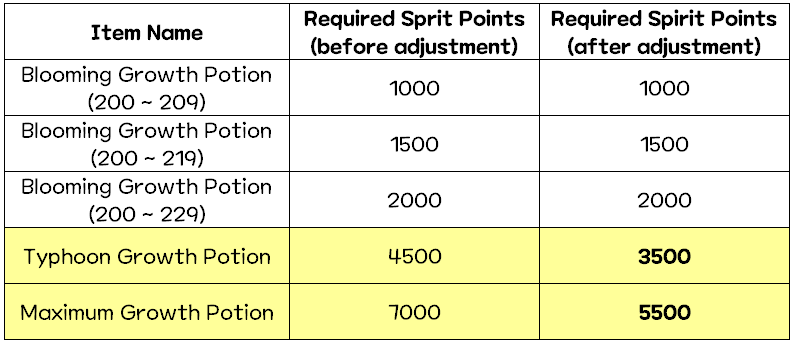 All above-mentioned changes will take effect
after the next server check on 20th April 2022.
We would like to thank you for all your support and we hope that everyone will continue to enjoy the Blooming Forest Festival update before we move on with fulfilling each of our destinies in the next upcoming patch.
- MapleSEA Administrator