Announcements
19 Jan 2022
Another Brand New Year, A New Beginning: MapleStorySEA's Upcoming Upgrades

Dear Maplers,
While we are still fresh into 2022, MapleStorySEA would like to take this opportunity to reflect these new major updates that will be implemented in the v211 Patch Update coming our way on the 26th January 2022.
1. New 64-bit Game Client
It's time to level up your game with the new 64-bit client update!
Starting from v211 onwards, the MapleStory game client will only be running on 64-bit operating systems, hence players who are still on 32-bit operating systems will be required to upgrade their OS in order to continue playing MapleStorySEA.
There are multiple methods to check whether your computer's operating system is 32-bit or 64-bit, however you may also follow the steps below:
1. Press the Window button on your keyboard, or click the

Windows icon/Start icon on your computer's menu bar. 2. Key in: About (your computer should be able to auto complete "About Your PC - System Settings") 3. Go to "About Your PC" 4. Check the System Type to confirm if your system is 32-bit or 64-bit.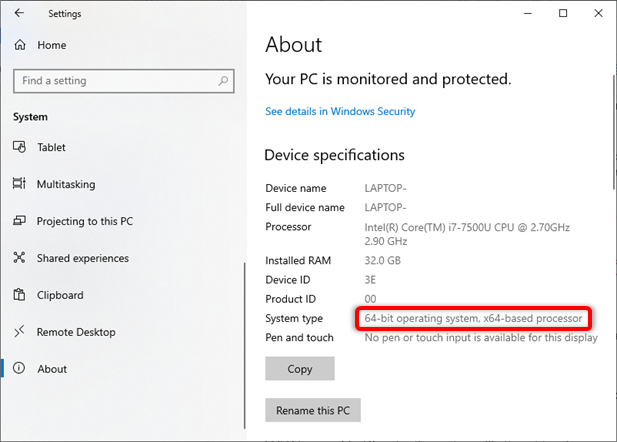 You will be able to see one of three system types as follows:
1.
64-bit operating system, x64-based processor:
Your computer is already running on 64-bit and you do not need to do anything further.
2.
32-bit operating system, x64-based processor:
Your computer is running on a 32-bit operating system, and your processor is able to support a 64-bit system. In this case, you will be required to upgrade to a 64-bit operating system in order to play MapleStorySEA after the v211 patch is lived.
3.
32-bit operating system, x86-based processor:
Your computer is running on a 32-bit operating system, and your processor will not be able to support a 64-bit system.
In light of the new 64-bit client, we have also updated our minimum and recommended system requirements.
| | | |
| --- | --- | --- |
| System | Minimum Requirements | Recommended Requirements |
| OS | Updated Windows 7 (64 bit)with Security Update KB3033929* | Windows 10 (64 bit) and above |
| CPU | Intel Core 2 Duo 3.0Ghz / AMD Athlon 64 x2 3.0Ghz | Intel Core i3 4.0 Ghz / AMD Ryzen 3 3.5 Ghz and above |
| RAM (Memory) | 4 GB | 8 GB or more |
| Storage | 20 GB or more | 40 GB or more** |
| Graphic Card | GeForce 9600 GT / ATI Radeon HD 3870 | Nvidia GTX 1050 / AMD RX 570 and above |
| Direct X | 9.0c | 9.0c or later |
| Network | Broadband Internet Connection | Fibre Internet Connection |
Note :
* While this is the minimum requirement to run MapleStorySEA, you might encounter unforeseen scenarios in-game while running on Windows 7.
** For a smooth installation, it is recommended that you have 40GB or more space.
After the game client update on v211, additional options will be available in-game for further 64-bit customizations.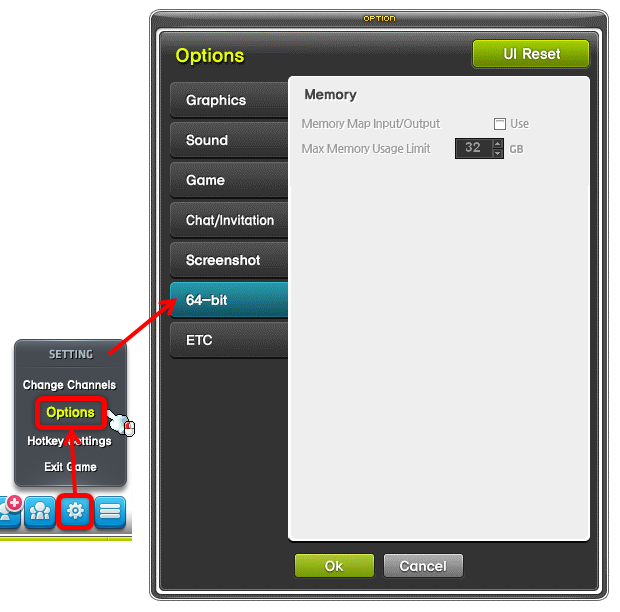 Memory Map Input/Output
(Default: Off) - Enable this option to allow faster data access speed by allocating additional memory
Max Memory Usage Limit
(Default: 50%) - Sets the cap on memory usage in GB - Upon reaching the cap, the system will attempt to release unused memory and refresh. - Having a higher cap allows for a smoother gameplay experience and reduced lag experience.
Upon changing these options, save your changes and restart your MapleStorySEA client in order for these changes to take place!
---
2. Google Authenticator 2FA to replace @Key
Security is never going to be the same with the new Google Authenticator service! We will be decommissioning the current @Key OTP used for MapleStorySEA Passport and Game login with effect from v211 patch.
Current method - @Key
(before v211 patch)
: 1. Players need to create a PlayID account and purchase an @Key device via PlayMall 2. After obtaining an @Key device serial number, players need to download the mobile @Key app in order to activate the @Key device. 3. After the @Key device is activated, players are required to login to their Passport accounts and tag their account to the @Key.
New method - Google Authenticator
(after v211 patch)
: 1. Players will be required to download the Google Authenticator app using their mobile device. 2. Login to Passport account and set-up the 2FA when prompted. 3. After the set-up is complete, the 6-digit PIN from Google Authenticator will be needed to verify the Passport and Maple accounts logins.
FAQs
Q: What is Two-Factor Authentication (2FA)?
A:
Authentication factors are categories of credentials that are used to verify that a person is who they are declared to be. A Two-Factor Authentication method means that 2 levels of credentials are used to verify the account ownership and to allow access to the account, namely a LoginID and Password, and a randomized One-Time Password (OTP) generated using the user's mobile device.
Q: What are the benefits of using the Google Authenticator?
A:
Regular passwords have a risk of being cracked or otherwise stolen, but a 2FA OTP Passcode is almost impossible to be stolen or hacked to gain access to the account in question, unless the hacker also has access to the user's physical device that is registered as the 2FA device. All Passcodes are changed every 30 seconds for maximum security.
Q: How do I set-up the Google Authenticator for my account?
A:
We will be publishing a more comprehensive guide soon. Please look out for the guide on our website on the day of our v211 patch scheduled for 26th January 2022.
Q: My @Key has not expired. Will I still be able to use my @Key device?
A:
If your @Key device is currently tagged to a PlayID account for other PlayPark games, you will still need the @Key to login into your PlayID account, but you will only be able to use the Google Authenticator 2FA method for Passport and MapleStorySEA.
Q: What if I am not an @Key user?
A:
There will not be any significant difference. You may login to the game as per normal without being prompted to enter an OTP number. However you are encouraged to set-up the Google Authenticator for your account for added security and protection.
---
As these changes roll out, we hope that players will have a more pleasant experience with MapleStorySEA as we work hand in hand to provide you with the most optimized experience possible.
We are also constantly looking at your feedback and working within means to improve ourselves and your Mapling experience to allow players to continue choosing us in providing you with quality gameplay and endless fun with the end goal of each one of us taking pride in being part of the MapleStorySEA community.
All that we have achieved so far could not have been possible without the support of each and every Mapler. We would like to thank everyone for their continuous support in this journey with us, please look forward to what we have in store for you in 2022!
- MapleSEA Administrator