Timeless Premium Mini-Dungeons! | 04.05

From 4th May 2011 to 18th May 2011, NPC Charlie will open up the doors of Premium Mini Dungeons once last time before the Big Change! What makes these event mini dungeons so special is that all the mobs roaming inside are dropping magical crystals which you can exchange rare items of your choice with Maple Administrator!




How to enter Premium Mini Dungeon:
Method 1 – Quest:
Speak to Maple Administrator to gather 4 Mini Dungeon tickets and exchange for 1 Free Entrance Ticket to enter the Premium Mini Dungeon.
Method 2 – Cash Shop:
The Maple Mini Dungeon Ticket will be available in the Cash Shop until the
18th May 2011, before the start of Big Bang Patch
! So hurry up and get them before they are gone! Each ticket is selling at
1,500
1000 Maple Cash
, while a bundle of eleven pieces is available at
15,000
10,000 Maple Cash
.
How does Premium Mini Dungeon works?
• Premium Mini Dungeon can only be access by talking to
NPC
Charlie. Each Mini Dungeon Ticket allows you to stay inside Premium Mini Dungeon for 10 minutes.
• Defeat the monsters to collect the
Mini Dungeon Crystals and Diamonds
that will trade you some amazing items like miracle scrolls and exclusive chairs! Speak to the Maple Administrator to exchange for the items of your choice.
• Please take note that you will not be able to consume any potions while you are inside the Mini Dungeon.


Where are the Premium Mini Dungeons located?
• Alcadno Laboratory, Laboratory C-1 Area
• Herb Town, Red-Nose Pirate Den 2
• Leafre, The Dragon Nest Left Behind
• Leafre, Battlefield of Fire and Water
• Leafre, Destroyed Dragon Nest
• Ludibrium, Eos Tower 76th ~ 90th
• Sleepywood Dungeon, Cold Cradle
• Sleepywood Dungeon, Sleepy Dungeon IV
• Sleepywood Dungeon, Ant Tunnel
• Sunset Road, Sahel 2
• Victoria Road, The Rain-Forest East of Henesys
| | | | |
| --- | --- | --- | --- |
| Reward | Mini Dungeon Crystal | Mini Dungeon Diamond | Mesos |
| Red Spin Hat Moon Bunny Cushion | 3,500 | 3 | 100,000 |
| Blue Spin Hat Moon Bunny Cushion | 3,500 | 3 | 100,000 |
| Fan Dance Hat Moon Bunny Cushion | 3,500 | 3 | 100,000 |
| Korean Woodwind Moon Bunny Cushion | 3,500 | 3 | 100,000 |
| Moon Star Chair | 8,000 | 5 | 300,000 |
| Miracle Scrolls with 10% stats | 20,000 | 10 | 2,000,000 |
| Miracle Scrolls with 60% stats | 12,000 | 8 | 1,000,000 |
| Mastery Books | 8,000 | 5 | 500,000 |
| Reverse Equipment | 8,000 | 5 | 300,000 |
| Timeless Equipment | 15,000 | 10 | 1,500,000 |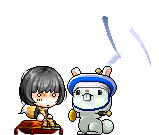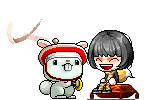 – Maple Administrator